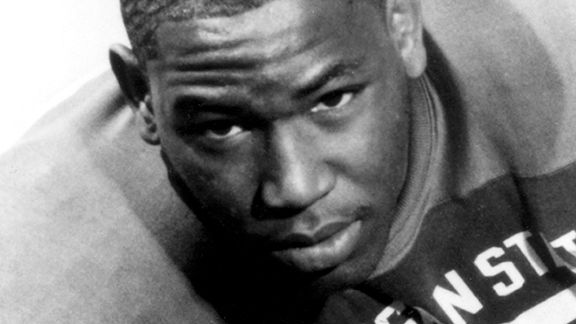 Michigan State/Collegiate Images/Getty Images
Bubba Smith gives a self-assured look into the camera, knowing that one day he would hold the same gaze with the likes of Steve Gutenberg and Bobcat Goldthwait.
March 14, 1967: The NFL and AFL made a step to becoming one happy family today, as they held their first joint draft. Prior to 1967, the two leagues had been beyond furtive about their (separate) draft picks, in fact the NFL held a "secret early draft" so it could beat the AFL to sign the best players. Teams were also known to hold players in hotels until after they were drafted so their league would have a better chance at signing them. Creepy.
But, as the leagues were set to merge in 1970, part of that merger agreement said they had to hold a joint draft in 1967. And what a 17 round epic of a draft it was. "Police Academy" star Moses Hightower - or as he was known back then, Bubba Smith - was selected by the Baltimore Colts with the first pick. Smith, a 6-foot-7, 283-pound defensive tackle from Michigan State, was also picked in the 11th round of the 1967 NBA draft by the Bullets but chose to stick with football.
Smith wasn't the biggest fella selected in the 1967 draft, though. That distinction went to Richard Sligh, selected by the Oakland Raiders in the 10th round. Sligh's pro career only lasted eight games, but it was still historic as the North Carolina Central University defensive tackle, at 7-feet tall, is the tallest person ever to play pro football.
Of course, several players from the same draft had longer, more storied careers. There were seven Hall of Famers taken in the '67 Draft — Bob Griese (Dolphins), Alan Page (Vikings), Gene Upshaw (Raiders), Lem Barney (Lions), Willie Lanier (Chiefs), Rayfield Wright (Cowboys) and Ken Houston (Oilers).