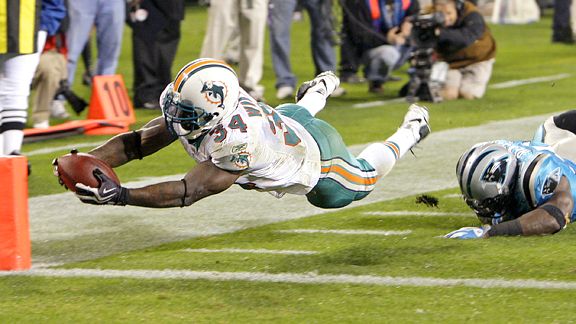 Photo: AP Photo/Chuck Burton
Ricky makes a mental note to pick up the Thanksgiving tofurkey.
Ricky Williams is 32 years old. For most NFL running backs, that's the time where they begin opening car dealerships and yelling at kids to get off their property. But the Fins' running back has only gotten better with age.
After the game against Carolina the media turned its attention to Ricky's holistic medicine-enhanced lifestyle choices. You may have known he's a vegetarian and licensed yoga instructor, but did you hear the one about his pranic healing regimen? According to the Miami Herald, pranic healing has roots that are 4,000 years old from the mysterious "Orient," where many spooky mysterious things like meditation and soup dumplings come from. It doesn't matter that we think the practice is closer to twenty years old, started by this guy. We're not the ones ringing up 119 rush yards and three TDs in our 30s.
Meanwhile, Ricky's opening a new restaurant in Miami Beach tomorrow night. Other co-owners of the restaurant, named PROOF, include former Bengal Rudi Johnson. Apparently there was some initial tension about the restaurant's direction:
"We had our differences about the menu,'' Williams said. "But we came to a nice agreement.''
"I'm a meat-and-potato guy. He's a vegan guy, said Johnson. "We have both things covered.''
Williams said the name "PROOF" has no special significance, but we imagine the acronym battle that happened afterward:
Pick
Roasted
Okra
Over
Frankfurters
Please
Ricky,
Order
Other
Flavorings
Poor
Rudi,
Out
Of
Filet Mignon
Ricky brings his downward-dogging vegetarian self to chilly (or should we say "chili"?) Buffalo this Sunday, kickoff at 1pm.