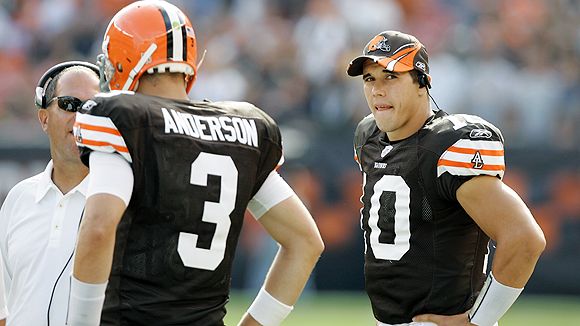 AP Photo/Mark Duncan
"They're not booing, they're saying 'Doo-rek!' No really, they love you D."
The Brady Quinn Era in Cleveland is dead, long live the Denver Brady Quinn Era! The Browns shipped their former franchise quarterback of the future to the Broncos for fullback Peyton Hillis and two draft picks. You'd think Mike Holmgren's decision to bring in Seneca Wallace and the 35-year-old Jake Delhomme would make Brady a wee bit bitter, but he's managed to take it in stride, delivering perhaps a textbook example of how to handle the media after you've been dealt to another team. Pay attention, future trade bait, because the Quinn-tessential (new nickname!) knows how to handle goodbyes. Here's the blueprint:
DO have positive things to say to your former bosses:
"I just wish things would've gone differently in Cleveland. I hope they have success in the future. I hope coach Holmgren can get things turned around for them."
DON'T forget to invoke the fans directly on more than one occasion:
"I had a wonderful time in Cleveland and I say that because of the fans. They were so welcoming and loyal to me. Even though I battled through some tough times, the fans stuck with me and I can't thank them enough for all of their support.
Bonus points to Quinn for acknowledging their support regardless of their brown-bag wearing, attendance-protesting ways.
DO invoke a higher power:
"Things don't always work out the way you want them to in life. I know God has a plan for me and obviously those plans are leading me out to Denver right now."
DON'T let the boorish behavior of some fans become the fuel for professional revenge. OR if it does, don't admit it to the public:
"The fans are ruthless and don't deserve a winner. I will never forget getting cheered when I was injured. I know at times I wasn't great. I hope and pray I'm playing when my team comes to town and (we) roll them."
That's from Derek Anderson, former quarterback platoon-mate and the Anti-Brady as far as goodbyes go. No matter how quick you issue an apology you'll always be painted as a malcontent. However, if you happen to be lucky enough to suit up for the Steelers after leaving the Browns, then let 'er rip.
DO find a way to apologize without apologizing:
"No matter what the situation, I've always felt confident in my ability and hopefully I'll have the opportunity to show that in Denver. Sorry it couldn't have lasted longer here."
Brady never said he was sorry for his quarterback rating. You didn't hear a mea culpa for his inability to hold down the starter's job or gel with Josh Cribbs. Projecting humility without diminishing your own potential as a player? That's impressive, ladies and gentlemen. At the very least, the Broncos can rest assured that they have themselves a Media Pro Bowler. How that translates onto the field remains to be seen.