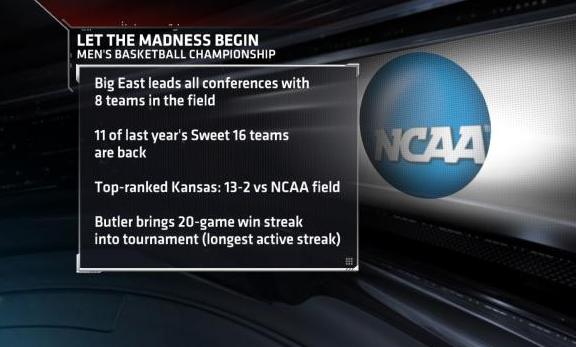 Winthrop Eagles (19-13, 12-6 Big South) vs Arkansas Pine-Bluff Golden Lions (17-15, 14-4 SWAC)
7:30 PM ET, March 16, 2010 -- University of Dayton Arena, Dayton, OH -- ESPN
The 2010 NCAA Men's Basketball Tournament begins tonight as the Arkansas Pine-Bluff Golden Lions battle the Winthrop Eagles in the annual "play-in" game between the tourney's two lowest seeds. The winner plays Duke, the No. 1 seed in the South Regional, Friday in Jacksonville, Fla. Winthrop is 1-8 in its 8 NCAA Tournament appearances, with its only win coming over 6 seed Notre Dame in 2007. Arkansas-Pine Bluff is in the NCAA Tournament for the 1st time.
Game Preview: Eagles vs Golden Lions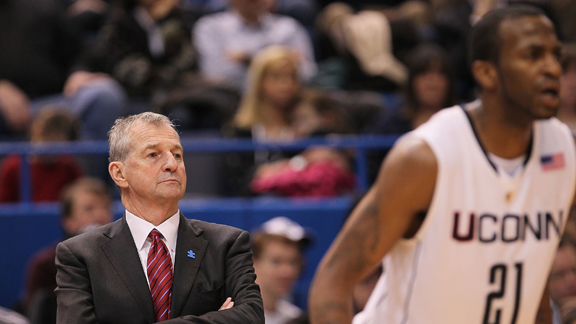 Getty Images
Northeastern Huskies (20-12, 14-4 CAA) vs Connecticut Huskies (17-15, 7-11 Big East)
7:00 PM ET --XL Center, Hartford, CT -- ESPN2, ESPN360.com
* Jim Calhoun spent 14 seasons at Northeastern (1972-86), where he compiled a 250-137 record, making him the school's all-time winningest coach. In addition, Calhoun brought NU to their first 5 NCAA Tournament appearances, including wins in 1982 and 1984 (NU has 7 NCAA appearances all-time).
* UConn is making its 12th NIT appearance (1st since 2001); the Huskies have 1 NIT championship (1988)
* Northeastern is making its 2nd NIT appearance
* Northeastern was outrebounded by 2.7 boards per game, tying them for 277th in Division I (out of 343 teams). They were outrebounded in all but 11 of their 32 games this season.
* UConn enters the game having lost 4 straight, its longest losing streak since 2006-07 (lost 5 straight and 4 straight).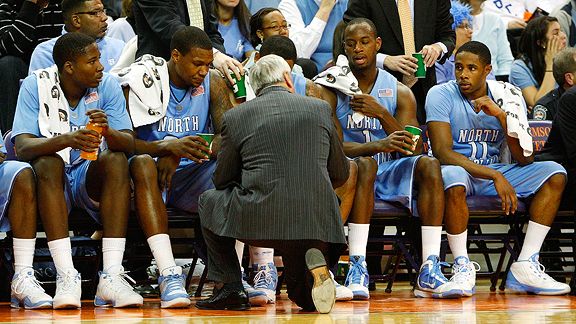 William & Mary Tribe (22-10, 12-6 CAA) vs North Carolina Tarheels (16-16, 5-11 ACC)
9:30 PM ET -- Dean E. Smith Center, Chapel Hill, NC -- ESPN, ESPN360.com
* Defending national champion UNC hosts a team that beat two NCAA Tournament teams from the ACC, in their buildings (Wake Forest & Maryland);
* This is UNC's 6th appearance in NIT (2nd since 1974)
* William & Mary is 0-9 all-time at North Carolina.
* North Carolina is the fourth defending champion since 1985 to miss the NCAA Tournament the year after winning the title.
* The Tarheels are just 5-13 in 18 games since January 1 (were 11-3 in November & December).
* William & Mary is making its 1st NIT appearance since 1983 (2nd appearance overall).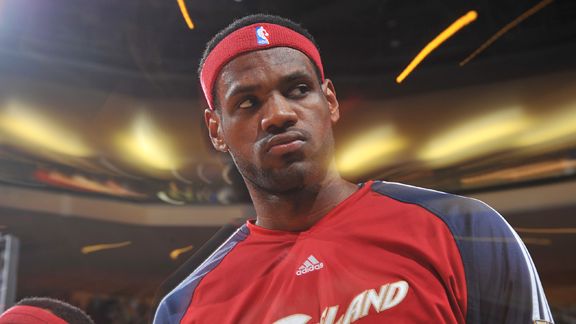 Brian Babineau/Getty Images
Cleveland Cavaliers (52-15) vs Detroit Pistons (23-44)
7:30 PM ET, March 16, 2010 -- The Palace of Auburn Hills, Detroit, MI
The Pistons host the Cavaliers tonight in the third of their four regular-season meetings. LeBron James scored 34 points against the Pistons on November 25 and then 40 against them earlier this month. It's been 14 seasons since the last time a player scored 30 or more points in a game three times in one season against Detroit . Michael Jordan was the last, during the 1995-96 season.
Game Preview: Cavaliers vs Pistons
..............................................................................................................................................
Note: The Elias Sports Bureau and ESPN Stats and Information group contributed to this report.