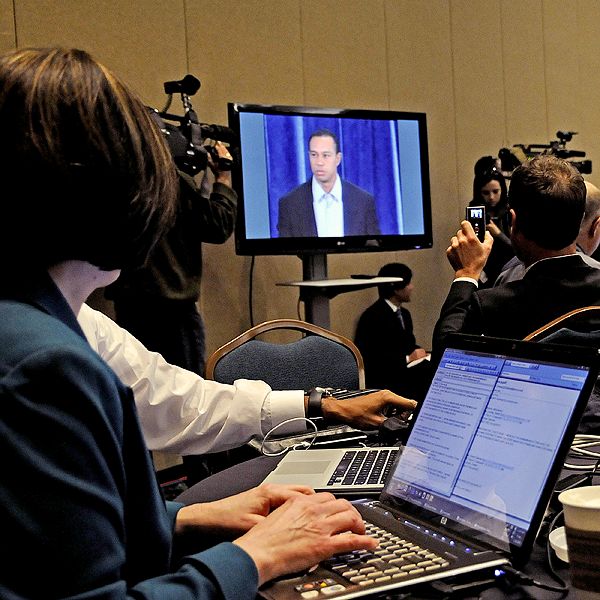 Bruce Weaver/AFP/Getty Images
Tiger coverage reached DEFCON 1.
Tiger Woods is returning to golf. Maybe you've heard. And ever since Eldrick announced that he'd be ending his four-month, self-imposed golf hiatus (with an appearance at the Masters no less), the twitterverse has been, to put it mildly, abuzz.
What's that? You had other things to do all day than searching Tiger trending topics? That's OK. We didn't. And so we offer you this snapshot of the twitter world's response to Tiger's comeback.
First, the athletes. While some, like PGA golfer Stewart Cink, took an awesomely sarcastic approach to the news …
@stewartcink: Wow I've had a lot of calls today from friends who have decided to come to the Masters this year.
and others, like Jets kicker Jay Feely, claimed omniscience regarding the event ….
@jayfeely: Ive said this all along RT @nytimes Tiger Woods Says He Will Return for Masters http://nyti.ms/as8Tah
a good chunk of pro athletes – like Timberwolves guard Jonny Flynn, ex-NBAer and ESPN analyst Jalen Rose and LPGA golfer Natalie Gulbis – were just plain excited to see one of their own get back up on the horse.
@J_Flynn: Tiger back for the Masters! Yeeeeaaaaa
@jalenrose: (Official) Tiger Woods will return to play golf April 5-11 at the Masters! (Fist pump) http://myloc.me/4SBpb
@natalie_gulbis: Is everyone excited to see Tiger Woods return to golf? I'm looking forward to watching him return at this years Masters.
Of course, for some athletes, like NFL free agent Daniel Wilcox and Cardinals wide receiver Larry Fitzgerald, it wasn't enough that Tiger's back. They want him to back with a vengeance.
@83DEGREEZ: Woods coming back 2 play golf at The Masters!he is going 2 whip every1 (expletive) that was talking all that noise!Glad 2 see you back Tiger!
@Lfitzgerald11: I wanna see him come back strong & win it this year RT @JayHarrisESPN: Tiger Woods says he is returning to golf at the Masters
Then there were those athletes, like Raiders linebacker Kirk Morrison, to whom the news was just another part of their day …
@kirkmorrison52: Breakfast done. Now headed to workout #1 of the day. Just saw Tiger Woods is coming back to golf.
But we suppose that's better than those athletes, like race car owner Michael Waltrip, who were charmingly oblivious.
@mw55: im hungry
As for our fans, the responses ranged from hopeful …
@BrandonKoppel: @SportsCenter It's a great way to come back. The most prestigious event in Golf with the Best making his comeback to this event. Its storybook
@bradestes50: @SportsCenter he needs to come back to show people he is still tiger not the sex addict he was. People need to forgive him. Mistakes happen.
@mpspence: @SportsCenter It probably won't happen, but imagine if it's like 97 and he is way out front. Would 100 mil watch his victory lap Sunday?
to confident …
@SamuelSterling: @SportsCenter He is going to kill it. Just wait. He wants to prove himself more than ever. Determined Tiger=Scary
@kylewparker: @SportsCenter perfect comeback. Strict media coverage, strict audience... He'll be deadly
to just plain funny …
@shlavacek: @SportsCenter Best decision he has made since getting in his suv
@watsonjones: you know it's a big day in golf when the sports editor of The Augusta Chronicle gets a live telephone interview on @SportsCenter
But in terms of pure business acumen, no one matched our own NBA reporter J.A. Adande …
@jadande: Tiger Woods at the Masters: a TV ratings number unlike any other.
Spot on, J.A. Spot on.