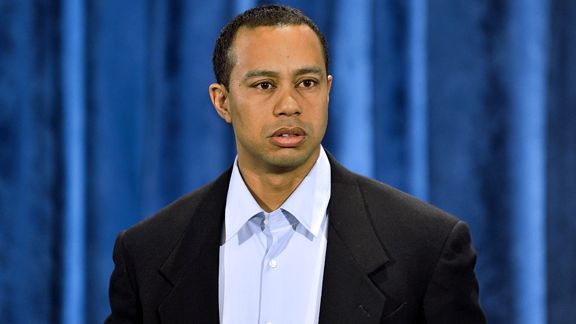 Lori Moffett/Getty Images
If you didn't get a chance to see our coverage of the Tiger Woods announcement, here's a recap of the day; including interviews and analysis from some of the leading golfers and experts.
Tiger to Return at the Masters
Tiger Woods announced he would return to golf at the Masters on April 8th. Tiger has torn up Augusta National in his career - winning four titles and finishing in the top 10 ten times in 13 appearances.
Bob Harig on the Absence of Tiger Woods
ESPN golf reporter Bob Harig spoke with Josh Elliott today on SportsCenter about Tiger Woods' return and the circumstances surrounding his controversial absence from golf.
Tom Rinaldi On Choosing the Masters for Tiger's Return
Tiger's 10 Masters top 10s are his most among the 4 majors. Hannah Storm spoke with ESPN's Tom Rinaldi and he details if the Masters is the best fit for Tiger's return.
Mike Tirico Not Surprised Tiger Picked the Masters
Today on SportsCenter, Hannah Storm read Woods' statement, and Josh Elliott spoke with Mike Tirico, who will host ESPN's coverage at Augusta. Tirico discusses why he wasn't surprised by Tiger's decision and describes the challenges Woods will face both on and off the course.
See what some of the most prominent golfers in the world had to say when they found out about the announcement.
PGA Commissioner Finchem Talks About Tiger's Return
PGA Tour Commissioner Tim Finchem addresses security concerns and says he expects Tiger to return to a full schedule of tournaments following the Masters.
TJ Quinn on the Type of Crowd Tiger Will Have to Face
ESPN investigative reporter T.J. Quinn explains how the scrutiny and heckling at the Masters could be unlike anything Woods has ever faced before.