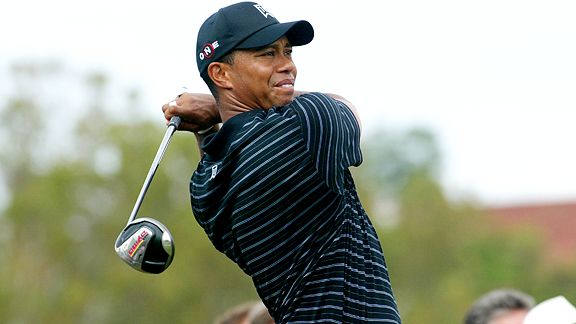 Jeff Robinson/Icon SMI
Tiger Woods Is Officially Back
Tiger Woods sent shockwaves through the sports world Tuesday when he announced he would make his return at the Masters on April 8th. We covered every aspect of the news including interviews and reactions.
Ty Warren Picks College Over Cash
Instead of a $250,000 bonus he was due for arriving at the Patriots offseason workout program, DE Ty Warren decided to stay in school at Texas A&M. Warren said he doesn't want his kids to have a father without a college degree as he tries to stress the importance of education to them.
Roethlisberger Hasn't Been Questioned
Authorities haven't interviewed Steelers quarterback Ben Roethlisberger yet in regards to his pending sexual assault case. According to special agent Tom Davis of the Georgia Bureau of Investigation, they have spoken to members of Roethlisberger's group, but have yet to speak with the Pro Bowl QB.
No Insight Into Favre's Decision
Even though Vikings QB Brett Favre helped recruit RB LaDainian Tomlinson to Minnesota, he didn't reveal any future plans he has on playing another season. Tomlinson said that Favre gave no hints towards his future and he didn't ask out of respect for the future Hall of Famer.
Buckeyes Extend Tressel Two Years
Ohio State football coach Jim Tressel signed a two-year extension with the Buckeyes. It will keep him in Columbus until 2014. The contract also guarantees Tressel a luxury box at "the horseshoe" for the rest of his life.
Westmoreland's Brain Surgery Successful
Ryan Westmoreland, one of the top prospects in the Red Sox organization, undewent successful brain surgery on Tuesday. Westmoreland is still in the hospital following the five-hour surgery but GM Theo Epstein called the initial prognosis "very encouraging."
Dez Bryant Pushes Back Pro Day
Oklahoma State WR Dez Bryant has changed his pro day from March 25 to March 30. Bryant didn't give a specific reason for the change, but it could have something to do with a hamstring injury that prevented the All American from working out at the NFL combine. ESPN NFL Draft insider Todd McShay projects Bryant as a top-15 pick.
Leinart Ready to "Take the Reigns"
One week after saying QB Matt Leinart needed to earn the starting job, Cardinals head coach Ken Whisenhunt said Tuesday he likes what he sees. Leinart is expected to take over for the retired Kurt Warner running the previously high-powered Arizona offense.
RB Mike Bell Signs Eagles Offer Sheet
Free Agent RB Mike Bell signed a 1-year, $1.7 million offer sheet with the Eagles. Since Bell is a restricted free agent the Saints have one week to match the offer or lose the RB without compensation.