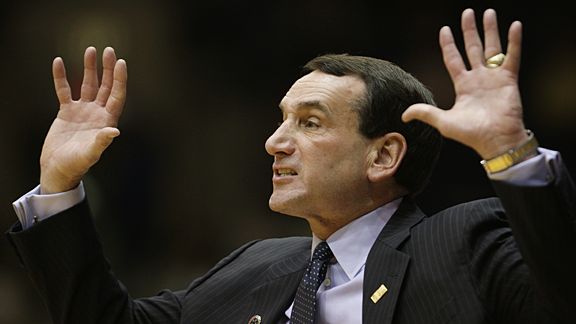 AP Photo/Gerry Broome
Coach K ranks his team's degree of difficulty as a solid 10.
Since the moment this year's NCAA Men's Tournament Bracket was released, professional and amateur bracketologists alike have highlighted the apparent ease of Duke's path through the South Regional. ESPN's Andy Katz pointed out that Duke was placed in the easiest bracket despite being the third-ranked No. 1 seed behind Kansas and Kentucky. And Jason Whitlock has argued that Duke has been the beneficiary of obvious favoritism thanks to its ability to deliver predictably high television ratings.
But with all due respect to our colleagues and the loyal fans of the other less fortunate No. 1 seeds, we're not as certain that Duke's path to the Final Four is paved with gold and lined with trendy cupcake shops. In fact, we think there's an argument to be made that Duke will face some serious challenges on its way to Indianapolis - assuming they make it that far. So with this in mind, let's take a look at some of the Blue Devils' likely opponents in the coming weeks.
Although Arkansas-PB (that's "Pine Bluff" not "Peanut Butter") rebounded nicely from an 0-11 streak to start the season and is coming off a clutch win last night to make the field of 64, we think that it's safe to assume that Duke will easily dispatch of them in the First Round. This means that Duke's first real test will be against either No. 8 California or No. 9 Louisville.
Head coach Mike Montgomery led the California Bears this season to the Pac-10 regular-season title for the first time in a half-century. While we may never know if it was Berkeley's 1960's hippie counterculture that sent the basketball program into the wilderness, the important thing is that Coach Montgomery has brought them back. And chances are, he's not going to let his team fall victim to the hippies again. So Duke's shaggy-haired Kyle Singler and bearded Brian Zoubek should be ready for a Cal team that is playing with 50 years of revenge on its mind.
Louisville, on the other hand, is coming into the tournament under the guidance of legendary head coach Rick Pitino. As we all know, Coach Pitino can dress up for the Big Dance better than most. But if there's one person Duke shouldn't mess with in the South (the South Regional, in this case), it's the guy in the white suit. Just ask Boss Hogg. Or Colonel Sanders.
If Duke can survive the Cal/Louisville gauntlet, then it's on to the Sweet 16 in Houston where they are likely to first meet either No. 4 Purdue or No. 5 Texas A&M.
Although Purdue will be playing without its leader, Robbie Hummel, who is out with a torn ACL, the Boilermakers are still a better team than many are giving them credit for. Perhaps most importantly, Purdue will be playing for a chance to reach the Final Four in its own backyard of Indianapolis. Such motivation should not be undervalued - just look at Michigan State last year when they made a run to the Final Four in Detroit.
Meanwhile, if Texas A&M reaches the Sweet 16 to face Duke, the Blue Devils should be worried. First, the game will be played in Houston, less than two hours from the Aggies' home in College Station, so the fans will be on Texas A&M's side. Second, to get this far, the Aggies of Texas A&M will have had to beat the Aggies of Utah State. After winning the Battle of the Aggies, Texas A&M will be running with confidence and Duke will have its hands full. Full of Aggies, that is.
Now, if Duke manages to survive the Sweet 16 and advance to the Elite Eight, they can expect that either No. 2 Villanova or No. 3 Baylor will be there waiting.
After Villanova dropped five of its last seven games to end the season, many bracketologists projected them at a lower seed and predicted little success thereafter. The Wildcats, though, have two things in their favor. First is shot-maker and senior leader Scottie Reynolds. Second is President Obama, who picked Villanova to make it to the Final Four. So Duke doesn't just have to win this game - they need to defy the leader of the free world while doing so.
As for Baylor, it''ll be putting its fate in the hands of the high-scoring duo of LaceDarius Dunn and Tweety Carter. LaceDarius and Tweety are like the Lenny and Squiggy of the Baylor Bears basketball program. Whereas Lenny and Squiggy had Milwaukee to call home, LaceDarius and Tweety have Waco - which is less than a four hour drive to the South Regional in Houston. Once again, the Houston fans won't be cheering for Duke.
Needless to say, Duke has no easy path in front of them and nothing is guaranteed. Which is, of course, why we love March Madness.