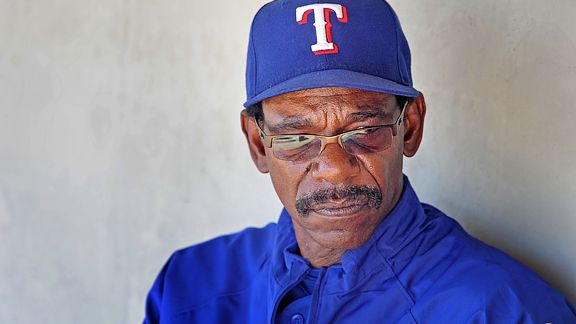 Mark J. Rebilas/US Presswire
Rangers Manager Tested Positive For Cocaine
Texas Rangers manager Ron Washington tested positive for cocaine during the 2009 season. According to SI.com, Washington, 57, said the incident was a one-time transgression and that he has passed all subsequent tests MLB has given him. "I did make a mistake and I regret that I did it," Washington said Tuesday night. "I am really embarrassed and I am really sorry." Washington reportedly called the commissioner's office and the Rangers front office before the results were known to warn them that the test might come back positive. He added that he offered to resign, but was grateful team president Nolan Ryan and Jon Daniels kept him on.
Free Agent QB Rex Grossman signed on with the Washington Redskins. The deal re-unites the former Super Bowl QB with his offensive coordinator from last season, Kyle Shanahan. Grossman has played in 37 NFL games including 31 starts and has thrown 33 TDs and 36 INTs. Incumbent starter Jason Campbell is a restricted free agent but the Redskins have indicated they would like to bring him back.
Tiger Woods announced Tuesday that he will make his return to professional golf at the Masters April 8-11. Despite Tiger's highly-anticipated return, no changes in security are expected. A private firm provides the security at Augusta and is supplemented by the Richmond County Sheriff's Office, according to the Augusta Chronicle. Col. Gary Powell doesn't anticipate any problems saying, "We have that place sealed up tight".
After the jump ... Cliff Lee suspended 5 games, Chris Paul's health, Derek Anderson's new team, the new JaMarcus Russell, Michael Jordan's new role, and a possible new rule in the NFL.
LeBron Helps Cavs Clinch Central Division
The Cleveland Cavaliers are the first team this season to clinch its division. LeBron James had 32 points, 9 rebounds and 9 assists and the Cleveland Cavaliers clinched their second straight Central Division championship and third in team history. They beat Indiana 99-94 on Wednesday night.
Cliff Lee Suspended Five Games
Mariners pitcher Cliff Lee has been suspended, pending appeal of course, for the first five games of the regular season for throwing a pitch over the head of Arizona's Chris Snyder in an exhibition game this week. Lee was ejected from the game against the D-backs.
Derek Anderson Signs 2 Year Deal With Cardinals
Derek Anderson had some harsh things to say when Cleveland released him. Now he's in sunny Arizona. The former Browns QB signing with the Cardinals, for 2 years $7.25 million. With Anderson signed ... it'll be another summer QB battle for current Arizona QB Matt Leinart.
JaMarcus Russell Turning Heads
Raising eyebrows for missing Monday's first off season workout for the Raiders, it was a different story for JaMarcus Russell Tuesday. Several players commented on the quarterback's new physique. Russell was training at a facility in Arizona and according to a team official, has been doing what the Raiders have asked of him. As for Monday's absence, he was completing a home purchase in Alabama.
For the first time in NBA history ... a former player ... is an owner. The NBA Board of Governors unanimously approving Michael Jordan's bid to buy the Charlotte Bobcats. Jordan was NOT successful in his first run as an executive ... that was with the Wizards. "Purchasing the Bobcats is the culmination of my post-playing career goal of becoming the majority owner of an NBA franchise. I am especially pleased to have the opportunity to build a winning team in my home state of North Carolina," said Jordan.
Hornets point guard Chris Paul took another step toward his return to the court. Paul was medically cleared to start running last week, and has now added sharp cuts and lateral movements to his workouts. There is no definite date set for his return, but it could come as early as Saturday against Utah or Monday at home against the Mavericks. "It's amazing just weeks ago, I was like will I ever get back,'' Paul said. "But now to be almost there gives me a lot of hope and something to be excited about. I'm moving pretty good right now, but I still have a little ways to go.''
There is too strong an advantage for teams winning the coin toss to start overtime, according to NFL competition committee chairman Rich McKay. In response, NFL owners will vote next week on the recommendation to allow each team a possession in overtime during the playoffs only if the team winning the coin toss kicks a field goal during its first drive. If the team that falls behind by three points on the first possession also kicks a field goal, then the game would continue under current sudden death rules. If a TD is scored on the opening drive in OT, the game would end. The proposal is for the postseason only.