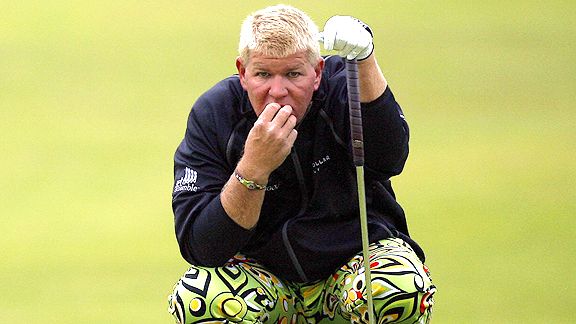 Photo: Glyn Kirk/AFP/Getty Images
John Daly finishes up a slice of pepperoni pizza while he reads the break on the 18th green.
We already knew John Daly could crank a monster drive off a can of Budweiser in front of Kid Rock, but now he's adding pizza to his repertoire. Long John has partnered up with Perky's Foodservice Concepts to bring pizza to golf courses, bowling alleys, casinos, truck stops, bars and convenience stores. Daly's pitch: "My pizza is a 350-yard drive down the middle! Grip It and Eat It!"
The Lion's Den Golf Club in Arkansas and John Daly's Restaurant & Bar in Mississippi are the only two locations currently selling Daly's pizza. However, based on Perky's President/Owner Jim Howell's excitement, Daly's Neapolitan creation will be visiting your town sooner than later. "This is a great combination of things Americans love, pizza and John Daly. JD has a keen eye for quality and simplicity, so we were a natural avenue to develop a worldwide brand for him," said Howell. Judging from Daly's golf wear, Howell has an interesting definition of simplicity.
Of course, we're not surprised by Daly's decision to dive into the world of sauce and cheese. It seemed like the natural progression for someone who has his own wine label. In fact, now you and your loved one can have John Daly nights. While your snuggling up on the couch watching reruns of "Being John Daly," you can indulge in fine Italian eats while enjoying a glass of vintage cabernet. For all you pepperoni lovers, his Lion's Range Collection promises to compliment any "richly flavored meal."
What's next in line for the crafty entrepreneur? After hearing his live rendition of "Knockin' on Heaven's Door" we'd recommend a stint in the music industry, but apparently he's way ahead of us. In 2002, Daly recorded an autobiographical album titled My Life and in 2007 he sang background vocals on Kid Rock's "Half Your Age" track.
All that's left for Daly to conquer is home grilling equipment. Isn't that right Cristiano Ronaldo?