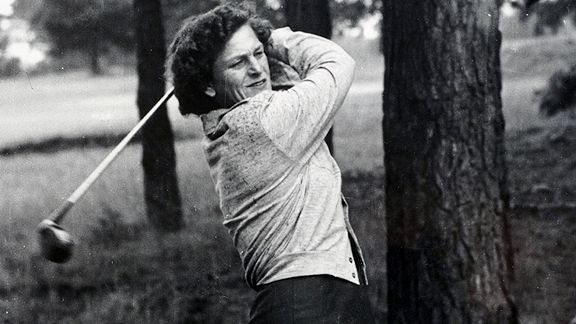 Bob Thomas/Getty Images
Didrikson also played golf, and basketball, and tennis, and volleyball, and handball, and swam, and boxed and ran track. We're tired just writing it.
March 20, 1934: The words "The Babe" and baseball have gone hand in hand since George Herman Ruth played ball in the early 1900s. But today, it was a different "Babe" that made noise on the diamond. Mildred "Babe" Didrikson, who claimed she got her nickname because the homers she used to knock as a teen reminded the neighborhood boys of the Sultan of Swat himself, pitched one inning of exhibition baseball for the Philadelphia Athletics against the Brooklyn Dodgers. She allowed one walk and no hits.
Though she could hang with Major League men, baseball wasn't even Babe's bread and butter. She was best known for her achievements in golf and track and field, though she also excelled in basketball, tennis, swimming, diving, boxing, volleyball, handball, bowling, billiards, skating and cycling. She was voted Female Athlete of the Year six times by the Associated Press, which also named her Greatest Female Athlete of the first half of the 20th century.
In track and field, Babe made a statement at the 1932 Olympics in Los Angeles. She qualified for five events, though women were only allowed to compete in three. She took gold in 80-meter hurdles (in a world record time of 11.7 seconds) and in the javelin and took silver in the high jump, though she and gold medalist Jean Smiley both broke the world record (5-foot-5.25). A judge said Babe's head had cleared the bar before the rest of her body (a rule that no longer exists) so Babe's jump was disqualified. Later, she turned to golf, where she won three U.S. Women's Opens and became the first American to win the British Amateur. She won 13 consecutive tournaments in 1946. And in 1949, she helped found the Ladies Professional Golf Association (LPGA).
Babe, who went by Babe Zaharias after marrying professional wrestler George Zaharias (who she met playing golf) in 1938, died of cancer in 1956 at the age of 45. She was voted as the Woman Athlete of the 20th Century by the AP in 1999 and was 10th (and the highest ranked woman) on ESPN's list of Top North American Athletes of the Century. For more on Babe, check out her bio on ESPN Classic.