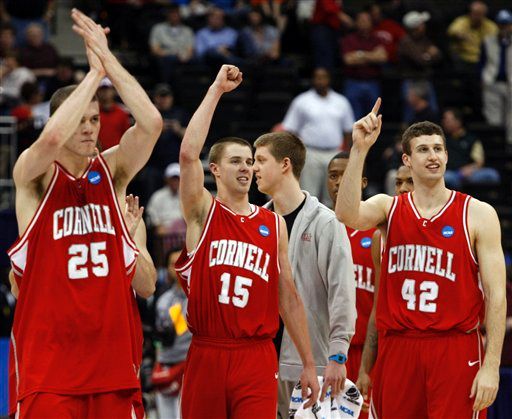 AP Photo/Steve Helber
NCAA Tournament - Round One In The Books
#12 seed Cornell beating #5 Temple in the East Region was the big upset on Friday. Overall we didn't have as many close games and buzzer beaters as Thursday, but we did whittle the field down to 32.
Another head coaching job has officially opened up in the Big East. St. John's fired Norm Roberts after six seasons with an overall record of 81-101. Athletic director Chris Monasch announced the dismissal two days after the Red Storm lost to Memphis in the first round of the NIT to complete a 17-16 season. The team was 6-12 in the Big East this season, finishing 13th in the 16-team conference.
Porter And Cardinals Agree On 3-Year Deal
Four time pro bowler Joey Porter is an Arizona Cardinal. The free agent linebacker agreed to a three year contract Friday ... worth $17.5 million according to ESPN's Adam Schefter. The 11 year veteran spent the last three seasons in Miami. His first eight were in Pittsburgh.
After the jump ... Mike Bellotti leaves Oregon, Seattle's QB situation, Carl Edwards taking some criticism, Jerry Rice on the pro golf tour and President Obama paying off a bet.
Bellotti Says Good-Bye to Oregon and Hello to ESPN
Former Oregon football coach Mike Bellotti has resigned as athletic director at the University and will join ESPN as a college football analyst, beginning April 17. Bellotti was the winningest coach in Ducks football history and won two Pac-10 titles from 1995-2008. Bellotti became athletic director in 2009. In his first year, Oregon had a string of problems withthe football team, beginning with RB LeGarrette Blount's 8-game suspension for punching a Boise State player after the Ducks opening-game loss, and culminating last week with the suspension of QB Jeremiah Masoli for the 2010 season after he pleaded guilty to burglary charges. Also last week, Bellotti fired longtime basketball coach Ernie Kent.
The Seattle Seahawks introduced new QB Charlie Whitehurst to the local media Friday, but head coach Pete Carroll confirmed that Matt Hasselbeck remains the starter. However, Whitehurst will be expected to push for the starting job. "Let the games begin," Carroll said. "Matt's obviously our guy that we've been excited about for a good while, and we're pumped to have him. Charlie's going to fit into this competition and take it as far as he can. And we have big expectations for him for the long haul."
Carl Edwards Defends Character
Carl Edwards is saying that despite what others may think, his character is good. Since Edwards intentionally wrecked Brad Keselowski two weeks ago in Atlanta, Edwards has been accused by driver Kevin Harvickof being fake. Othershave wondered if Edwards has anger issues. Edwards says he doesn't care what other drivers say about him, particularly Harvick. The two feuded two seasons ago and Edwards says he lost all respect for Harvick during their disagreement.
Back In Cleveland, Back To The Cavs?
In three days Zydrunas Ilgauskas can re-sign with the Cavaliers. On Friday, he arrived back in Cleveland. Ilgauskas declined to comment, but his agent, said that he will talk to Cavaliers general manager Danny Ferry next week about returning the 7-foot-3 center to Cleveland. The Cavaliers traded Ilgauskas to Washington at the NBA's trade deadline as part of a three-team deal that brought Antawn Jamison and Sebastian Telfair to Cleveland. Ilgauskas' contract was bought out by the Wizards, making him a free agent.
Jerry Rice - Professional Golfer
You know what Jerry Rice could do on a football field. What you may not know is what he can do on a golf course. He took up the game while with the 49ers... last year, he turned professional. Now Rice will play in his first professional tournament. The All-time NFL receptions leader will tee it up in April in a Nationwide Tour event, the PGA's version of the minor leagues.
President Barack Obama paid his Olympic hockey bet to Canada, sending beer to the prime minister. Stephen Harper received the delivery of Molson Canadian Friday. Canada earned the men's gold-medal by defeating team USA on Sydney Crosby's overtime goal. Harper and Obama had each wagered a case of beer on the outcome. A spokesman for Harper said the two cases would be donated to the Hockey Hall of Fame in Toronto.
Lance Armstrong won't compete in Saturday's Milan-San Remo race. The seven-time Tour de France champion says he's suffering from acute gastroenteritis. Team RadioShack said Fumiyuki Beppu will replace Armstrong. The Milan-San Remo is the opening single-day classic of the cycling season, and the 185-mile race is one of the longest of the year. Armstrong finished 125th in San Remo last year in one of his first races back from a three-year retirement. Armstrong's next challenge, he'll face rival and former teammate Alberto Contador next week at the Criterium International in Corsica.
The United Football League wants the NFL as a partner, hoping to gain a valuable senior partner, as well as other investors, sources told ESPN Senior NFL Insider Chris Mortensen. The UFL's latest proposal, which would give the NFL a 30% stake in the UFL, is not on the agenda for discussion during the upcoming NFL owners' meetings in Orlando. The proposal would also give the NFL at least one seat on the UFL's board and a role in football operations. Sources disagree on whether a deal is likely or not. If there ever was a partnership, the NFL would likely use the UFL as a training ground for on-field game officials and possibly experiment witha variety of competitive concepts, a source added, such as it did with NFL Europe, which shut down operations in 2007.