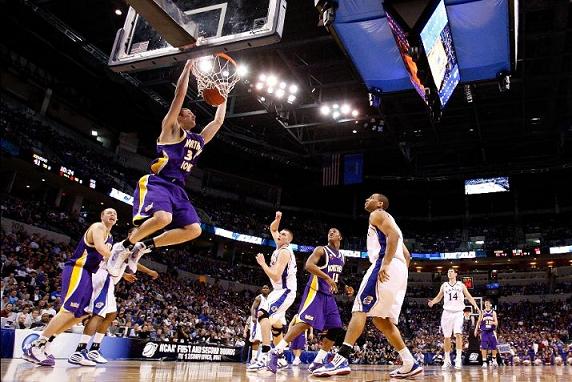 Adam Koch of Northern Iowa dunks against Kansas. Panthers upset the Jayhawks 69-67.
Ronald Martinez/Getty Images
Northern Iowa Upsets Top Seeded Kansas
There have been 10 double-digits seeds to pull upsets this year; eight in the first round. No. 10 Saint Mary's beat Villanova on Saturday and No. 11 Washington beat New Mexico. But the ninth-seeded Panthers pulled the shocker of them all. Kansas' only lead was at 2-0. After that, the Panthers led the way ... holding off the Jayhawks 69-67.
Saint Mary's Stuns Villanova For Berth In Sweet 16
Omar Samhan was nearly unstoppable as he lead 10th-seeded Saint Mary's past #2 Villanova 75-68. Samhan played the game of his career on basketball's biggest stage, finishing with 32 points and seven rebounds. The Gaels move on to Houston for the South Regional's Sweet 16.
Starting center Andrew Bynum left Friday's game against the Minnesota Timberwolves with a strained left Achilles tendon and will be out of the lineup indefinitely. Bynum said there wasn't any collision that caused the injury ... he was simply running back on defense when it occurred. An MRI confirmed a strained left Achilles tendon. There is no tear of the tendon. Bynum will be re-evaluated in a week.
After the jump ... LeBron Likes Chicago, Strasburg heading to the minors, Beltran feeling better, Edwards and Keselowski on same page and the MLS strikes a deal.
NASCAR Calls Edwards And Keselowski Together
NASCAR called a meeting with Carl Edwards and Brad Keselowski to make sure everybody "was on the same page," on everything that led Edwards to intentionally wreck Keselowski two weeks ago. Safety also was a concern after Edwards' bump sent Keselowski's car into an airborne flip. Do they see eye to eye on everything? "No, but I think that they will give one another enough respect that we won't see another occurrence like that," said Jack Roush, who owns Edwards' No. 99. Keselowski finished 2nd in Saturday's Nationwide race in Bristol and Edwards came in 4th.
After torching the Bulls for 29 points 11 rebounds and 7 assists, LeBron James made the Chicago fans feel a little better. James told the media how much he liked the city of Chicago, furthering speculation that the Bulls will be one of the top teams on his list this summer. He is preparing to be one of the most coveted free agents in NBA history and the Bulls are one of the teams that can offer him a max contract.
Strasburg Heading to the Minors
The Washington Nationals have sent pitching phenom Stephen Strasburg down to Double-A Harrisburg. Nationals manager Jim Riggleman has said all spring that Strasburg would likely start the season in the minor leagues regardless of his spring performance. The team is being careful with the development of one of the most highly touted pitching prospects in recent memory. In nine innings this spring, Strasburg has given up just 2 runs on 8 hits. He also struck out 12 batters with only 1 walk.
New York Mets OF Carlos Beltran is making progress after knee surgery this offseason. Beltran has been going through vigorous workouts in the Mets training facility, showing off the progress he has made. He says the next step is to participate in baseball activities. No timetable for his return to the field has been determined, but the expectation is that he could be ready in early May.
MLS And Union Sign Labor Deal - Avoid Strike
Major League Soccer and its players signed a five-year labor contract. Prior to the new deal, a strike was scheduled for before the MLS season opener next week. MLS Players Union head Bob Foose said a majority of players will receive guaranteed contracts for the first time and there will be increased player rights within the league when contracts expire. Still, the union did not achieve its goal of free agency.
The Associated Press contributed to this report.