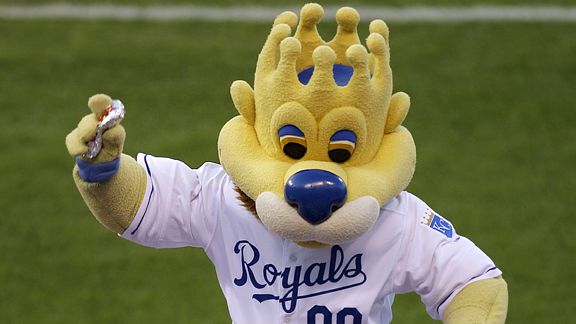 AP Photo/Charlie Riedel
Would Sluggerrr and his pals have a shot in the playoffs if they didn't have to see Minnesota, Detroit, Cleveland and the White Sox all the time?
Bud Selig is looking to tweak the Big Leagues again. "When I am on long airport rides I will fiddle around with divisions and things," he said at a recent spring training game. "The one thing about it: you come up with 100 different [scenarios]." Given that the game was between the Royals and Brewers, it's no wonder the commissioner was inspired to consider a few changes.
Four months ago, Selig appointed a 14-person special committee to come up with ways to improve the game. One idea that came out of the think-tank was the concept of "floating realignment. " Under that proposal, teams would no longer be permanently stuck in one division, but could switch from year to year based on factors such as payroll, location and whether they intended to make a run at the postseason.
Instead of trying to guess the commissioner's 100 scenarios, take a gander at some realignment proposals we'd like to see:
DIVISION BY PAYROLL
Every year we hear the same argument: large-market clubs make it impossible for smaller teams to compete, crushing the dreams of Orioles and Royals fans before June's over. Why not let the big spenders beat each other up and guarantee at least one of the minnows makes it to the dance? For example:
Billionaire Boys Division (Payroll of $115 million or more)
New York Yankees
New York Mets
Chicago Cubs
Boston Red Sox
Detroit Tigers
Penny Pinchers Division ($62 million or less)
Oakland Athletics
Washington Nationals
Pittsburgh Pirates
San Diego Padres
Florida Marlins
It's not going to stop the Yankees from winning another World Series, but at least you might catch a glimpse of the Pirates on the way up.
DIVISION BY MASCOT
What Was Your Costume Designer Thinking Division
Boston Red Sox (Wally the Green Monster)
Cleveland Indians (Slider)
Tampa Bay Rays (Raymond)
Cincinnati Reds (Gapper)
Chicago White Sox (Southpaw)
Your Animal Has Nothing to Do with Your Team's Name Division
Seattle Mariners (Mariner Moose)
Colorado Rockies (Dinger)
Houston Astros (Junction Jack)
Minnesota Twins (T.C. Bear)
Arizona Diamondbacks (D. Baxter the Bobcat)
OTHER DIVISIONS
Frequent Flyer Division
San Diego Padres
Toronto Blue Jays
Seattle Mariners
Tampa Bay Rays
My Manager is More Explosive Than Your Manager Division
Philadelphia Phillies (Charlie Manuel)
Atlanta Braves (Bobby Cox)
Chicago White Sox (Ozzie Guillen)
Chicago Cubs (Lou Piniella)
Minnesota Twins (Ron Gardenhire)
All BBQ Division
Kansas City Royals
St. Louis Cardinals
Houston Astros
Atlanta Braves
(We don't suppose MLB could relocate a franchise to Memphis or the Carolinas, would they?)
What division would you like to see your team in?