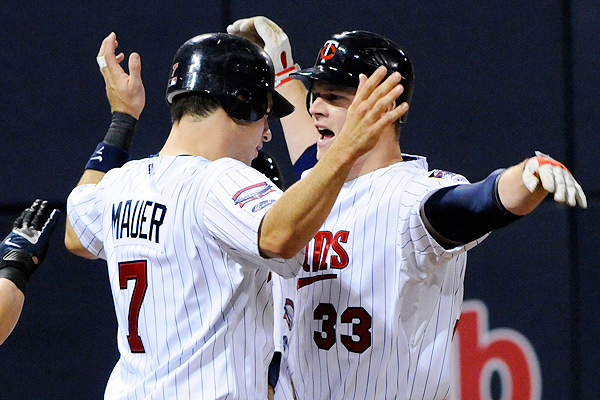 Photo: AP Photo/Jim Mone
Joe Mauer is planning on giving some love to teammates like Justin Mourneau 184 million times.
This weekend was just another reminder of why it's called March Madness. Three double-digit seeds advanced to the Sweet 16, 9-seeded Northern Iowa knocked off Kansas, the tourney's top overall seed and Korie Lucious became public enemy No. 1 in Maryland. As you may have expected, the award for breakthrough player of the tourney goes to Ali Farokhmanesh. Jordan Crawford of Xavier and Omar Samhan of Saint Mary's were both spectacular, but how can you pick against a guy with named "Ali"? That's the kind of name that's used to knocking out heavyweights. Meanwhile, if you're looking for an intriguing matchup next week, how about No. 12 Cornell versus No. 1 Kentucky. The Big Red and the Big Blue have been playing about as well as anybody in this tournament. We can't wait to see what happens when these teams collide.
Meanwhile, it was a "bittersweet" weekend for Twins fans. Bitter, because Minnesota officially lost closer Joe Nathan for the entire 2010 campaign. Sweet, because the Twins finally agreed to terms with Joe Mauer inking him to a eight-year contract worth $184 million. If that's the going rate for amazing sideburns these days, we expect to see a Brandon Walsh-esque makeover this year at the catching position.
In the world of "what else is new," Jimmie Johnson took home the checkered flag for the third time this season. Surprisingly, it was Johnson's first-ever victory at Bristol Motor Speedway. The victory was Johnson's 50th of his career. Which begs the question, "To even the playing field, should we equip the rest of NASCAR's field with driving gadgets from R.C. Pro-Am?"
And speaking of athletes who dominate their sport, Tiger Woods gave an interview to ESPN's Tom Rinaldi Sunday afternoon that aired on ESPN at 7:30 (ET). Echoing his previous televised speech, Woods said, "I've done some pretty bad things in my life" and wonders how he'll be received at the upcoming tournaments. We'll get a chance to find out soon enough as the first round of the Masters is less than two weeks away.