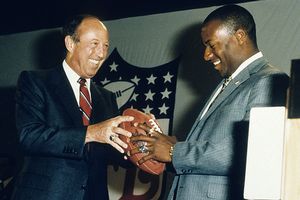 NFL/Getty Images
Pete Rozelle knew football long before Bo Jackson did.
March 22, 1989: NFL Commissioner Pete Rozelle announced that he would soon retire from his leadership position after 29 years. Rozelle initially took the helm as commissioner of the NFL in 1960, when the then-33-year-old general manager of the Los Angeles Rams was selected by league owners after 22 ballots. At the time, Rozelle was also the most famous alumnus of Compton High School (Eazy-E was still just a twinkle in gangsta rap's blinged-out chain).
From day one, Rozelle was a football man through and through - he even attended part of the Rams' season opener in 1958 after his only daughter was born during halftime. Rozelle's passion for the game translated to his office, and he presided over the NFL from its days as a fledgling league to a dominant force in American sports.
Under Rozelle, the NFL saw the introduction of network television contracts, the Super Bowl, Monday Night Football, and Gatorade showers. The NFL had only 12 teams worth about $1 million each when Rozelle took the reins. Following the merger with the AFL and further expansion, the NFL had 28 teams worth more than $100 million each when he retired.
Rozelle was elected into the Pro Football Hall of Fame in 1985, while still commissioner of the league.