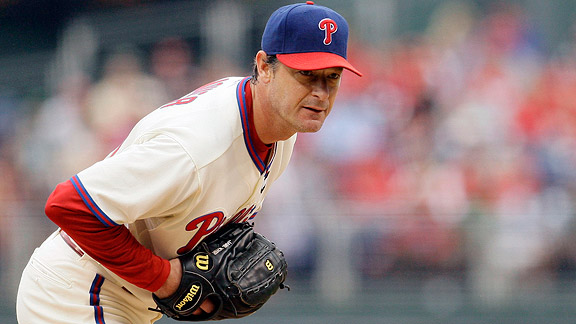 AP Photo/Matt Slocum
Jamie Moyer is voting for the Olde Philadelphia for obvious reasons - he loves Amish pepper hash.
Not content to rest on their laurels after two World Series appearances in the past two years, the Philadelphia Phillies have decided to keep things fresh this summer for their diehard fans. And nothing says "fresh" like an indestructible roll of processed meat stuffed into an artificial intestinal casing. So this year, when the Philly Phaithful head out to Citizen Bank Park to boo cheer Howard, Utley, Rollins, & Co., they'll be able to do so while feasting on a new signature hot dog.
The Phillies and their concession partner, ARAMARK, have actually developed three varieties to compete for this illustrious title. And because Philadelphia is the home of Independence Hall, it's not surprising to learn that this weighty decision will be put to a vote. The poll is already live over at Phillies.com and the online voting will continue through April 4th. For those late deciders out there (you know who you are), there will even be the opportunity to taste free samples of each Philly-centric selection before the team's exhibition games on April 2nd and 3rd.
Ultimately, whether the fans choose the South Philly (featuring broccoli!), the Olde Philadelphia (Philly's interpretation of a Chicago-style hot dog), or the Summer (behold the power of a pretzel roll), the winning hot dog will be available at the stadium throughout the season, starting with the Phils' home opener on April 12th.
While we look forward to following this spirited competition and to consuming the eventual champion, we would also feel remiss if we did not share with you our own concoction inspired by the culture of the City of Brotherly Love: The Phrankenstein Phrankphurter.
It's an all-beef dog, topped with cheesesteak, scrapple, and cream cheese on a Tastykake Krumpet that is dipped in the Schulykill River by a Benjamin Franklin impersonator while the Mummers strut in the background to a live performance by Boyz II Men. It may not taste that great, but chances are, it will smell like Rocky.