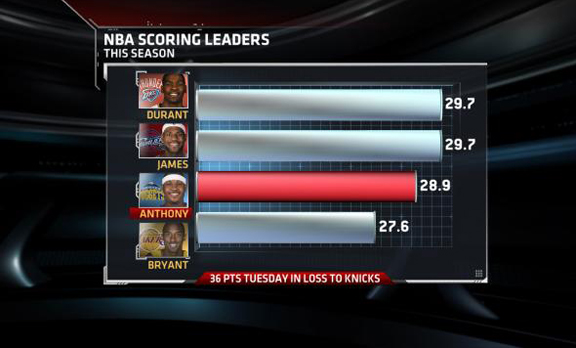 RACE FOR NBA SCORING TITLE: Even though the Nuggets lost to the Knicks 109-104 Tuesday night, Carmelo Anthony increases his scoring average to just under 29 points per game with a 36 point performance. He continues to chase both Kevin Durant and LeBron James, who are averaging 29.7 points per game. Kobe Bryant sits in 4th in the league at 27.6 points per game.
After the jump, find out why the Big East conference is not so BIG after all, and more amazing numbers detailing the UConn Women's assault on the NCAA record book.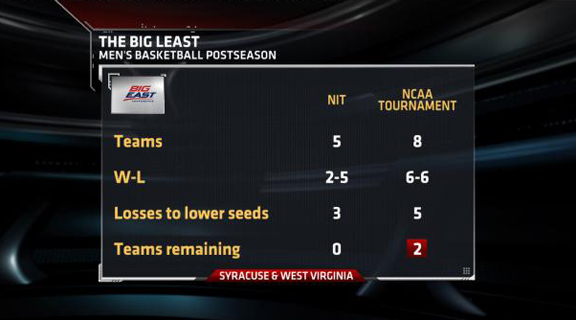 NO SO BIG AFTER ALL: The Big East sent 13 total teams to the NIT and NCAA Tournament, and only 2 remain: Syracuse (vs Butler) and West Virginia (vs Washington). Big East teams have gone a combined 8-11 in the two tournaments with 8 losses coming to lower seeded teams. Kind of hard to imagine after the Big East sent two teams to the Final 4 last year and four teams to the Elite 8. The Big Ten has more teams alive (Ohio State, Purdue, Michigan State) and a 7-2 record after the first weekend, while the Big East is 6-6.
MORE: 2010 NCAA BRACKET | 2010 NIT BRACKET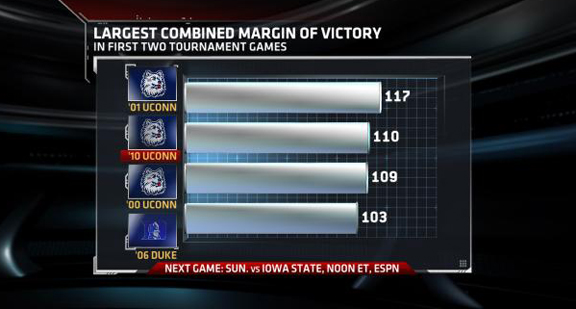 HOW DO YOU SPELL DOMINATION: UConn has outscored Temple (90-36) and Southern (95-39) by a combined 110 points in the first 2 rounds. That's the 2nd-largest combined margin of victory in the first 2 rounds of the NCAA Women's Tournament. Only the 2001 version of UConn did better, but that team didn't win the National Title. Next up for UConn: Iowa State on Sunday as they go for 75 in a row.