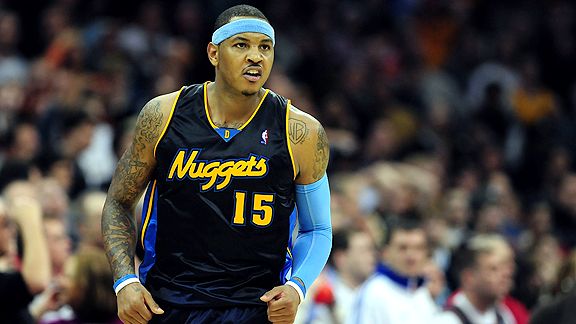 Andrew Weber/US Presswire
Denver Nuggets (47-24) vs Boston Celtics (45-25)
7:00 PM ET, March 24, 2010 -- TD Garden, Boston, MA -- ESPN
The Nuggets and Celtics have split their last four season series. Denver won the first game this season 114-105 on Feb. 21 in Denver. Boston is on the opposite end of the spectrum from the Nuggets. They've struggled against the best of the best. Boston is only 4-8 against division leaders this season. Carmelo Anthony has scored 25-or-more points in each of his last five games tying him with Danny Granger for the longest current streak in the league. Chauncey Billups is one of only four active players who have played for both the Celtics and Nuggets (Chucky Atkins, Tony Battie and James Posey).
Game Preview: Nuggets vs Celtics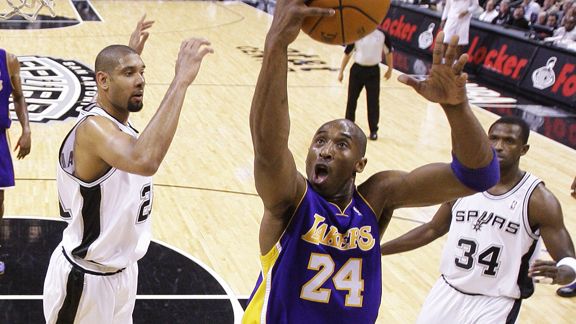 AP Photo/Eric Gay
Los Angeles Lakers (52-18) vs San Antonio Spurs (42-27)
9:30 PM ET, March 24, 2010 -- AT&T Center, San Antonio, TX -- ESPN
The Lakers and Spurs have played twice this season. The teams have split 1-1 so far with the home team winning each game. Kobe Bryant has scored 21,038 career points with Phil Jackson as his head coach and Tim Duncan has scored 20,461 career points with Gregg Popovich as his head coach. Only two other players in NBA history have scored 20,000+ career points under a single head coach: Karl Malone (30,636 under Jerry Sloan) and Alex English (20,421 under Doug Moe). Manu Ginobili is averaging 19.5 points per game and is shooting .471 from the field in the 18 games he has played without Tony Parker this season. In his 46 games with Parker, Ginobili is averaging 13.8 points and is shooting only .418 from the field.
Game Preview: Lakers vs Spurs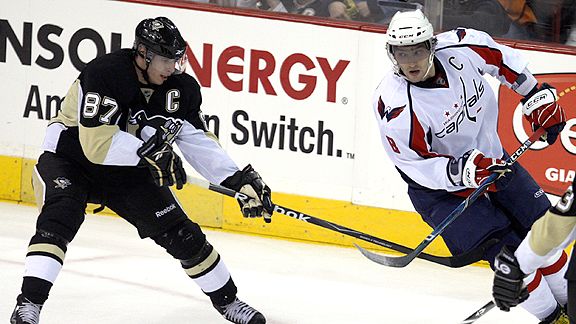 AP Photo/Gene J. Puskar
Pittsburgh Penguins (42-25-60) vs Washington Capitals (48-14-10)
7:00 PM ET, March 24, 2010 -- Verizon Center, Washington, DC
The winners of the last 3 Hart Trophies square off when Sidney Crosby (2006-07 winner) takes on Alex Ovechkin (2007-08 and 2008-09 winner). The Capitals and Ovechkin host the Penguins tonight, he has scored five goals in two games against Pittsburgh this season. The only other player with five goals in his first two games against the Pens in any season since 1990-1991 was Sergei Fedorov (2002-2003). The last player with more than five goals in his first three games of a season against Pittsburgh was Vladimir Ruzicka for the Bruins in 1991-1992 (7 goals).
Game Preview: Penguins vs Capitals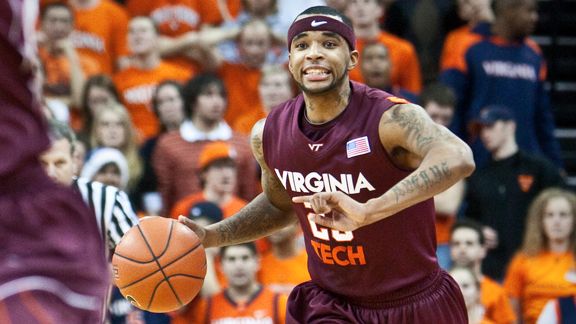 Jeff Lack/Icon SMI
Rhode Island Rams (25-9, 9-7 A 10) vs Virginia Tech Hokies (25-8, 10-6 ACC)
7:00 PM ET, March 24, 2010 -- Cassell Coliseum, Blacksburg, VA -- ESPN2, ESPN360.com
The Hokies can set a school record for wins in a season tonight. Virginia Tech's Malcolm Delaney leads the Hokies in scoring, averaging 20.1 ppg to go along with 4.5 assts/game. Virginia Tech is 10-0 against non-conference opponents at Cassell Coliseum this season. Rhode Island is 1-5 in its last six road/neutral site games. Rhode Island has averaged just 69.8 PPG in road/neutral site games (1186/17), compared to an 82.6 PPG average in home games (1405/17).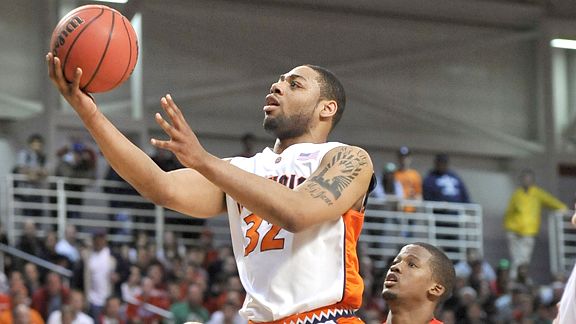 AP Photo/Kathy Kmonicek
Dayton Flyers (22-12, 8-8 A 10) vs Illinois Fighting Illini (21-14, 10-8 Big Ten)
9:00 PM ET, March 24, 2010 -- Assembly Hall, Champaign, IL -- ESPN2, ESPN360.com
Illinois leads the all-time series 4-2, but both of the Flyers wins have come in postseason play (1 each in the NCAA and NIT). The Flyers are 2-7 all-time in NCAA and NIT games against the Big Ten. Both of their wins have come against Illinois. Dayton's bench is scoring 33.5 PPG in the NIT, the most among all schools. Overall, their 28.3 PPG is 8th-best in Division I. The Illini's Demetri McCamey is averaging 15.1 PPG and 7.0 APG, the only player in Division I basketball at those levels.
...............................................................................................................................
Note: The Elias Sports Bureau and ESPN Stats and Information group contributed to this report.