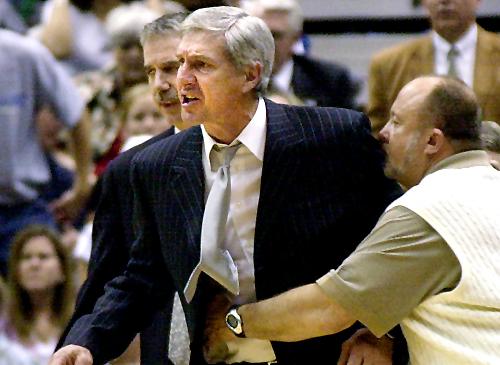 AP Photo/Colin Braley
Calm down Jerry. You'll get your crack at Antoine Wright in a sanctioned bout soon enough.
Jerry Sloan has been a no-nonsense type of guy since he entered the league in 1964. NBA archaeologists would likely tell you the holy grail of basketball pictures is one of Sloan smiling. Last Friday, the 67 year-old's fiery personality boiled over once again and Sloan was ejected from a game for making contact with an NBA official. The NBA ruled the contact was "incidental" and Sloan was neither fined nor suspended. However, the incident looks to have garnered the attention of a younger, more fit adversary.
Twenty-six year-old Antoine Wright of the Raptors has called out J-Slo and is ready to throw down with Utah's head coach. "I don't know Sloan personally, but from what I have heard he is a pretty tough guy. I think I could take him," Wright said Tuesday. "I will be looking forward to a fight after the game." Nothing broke out after Jazz crushed the Raptors 113-87 Wednesday, but that doesn't mean the bout can't happen. We'll put in the effort to plan the fight, but Wright better not come at Sloan with that weak stuff he displayed in last year's NBA playoffs when he couldn't deliver a foul to save the Mavs from a game-winning Melo three. Wright may have a two-inch height advantage, but Jerry Sloan has anything but a glass chin.
Here's what we're thinking:
The Match: Neither fighter has any boxing background and Sloan is almost 70, so it's a two-round MMA fight.
Venue: Madison Square Garden. Mixed Martial Arts is not yet legal in New York, but the president of Madison Square Garden Sports is coveting a fight at the World's Most Famous Arena. The publicity would be off the charts if New York's first fight were Sloan versus Wright. And scheduling shouldn't be an issue; neither the Rangers nor the Knicks will likely have use for MSG this postseason.
Managers: For Sloan's cornerman we're going with Senator John Kerry. On top of Sloan's hardnosed coaching style meshing perfectly with Kerry's military background, it gives us the chance to reunite a pair of identical twins separated at birth. (Exhibit A & Exhibit B). Wright's manager is obviously the Raptors mascot. He may not be the best cutman, but he sure knows how to put on a show.
Undercard: We'll settle Chicago supremacy once and for all with The Battle of North Siders and South Siders. Jake Peavy & Ozzie Guillen take on Carlos Zambrano & Lou Piniella in a tag-team match. Peavy recently declared his hatred for the Cubs, so why not settle it in the octagon with the other three firecrackers of Chicago baseball? Just remember Ozzie, no steel chairs this time around.