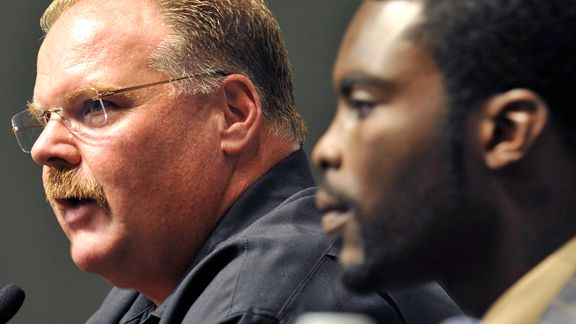 Barbara Johnston/US Presswire
Eagles Reid Evaluating Trade Offers
The Eagles have reportedly received offers for all of their QBs and Andy Reid is listening. Reid did reiterate that Donovan McNabb is his starting QB, but admitted the team is evaluating all of the offers they have received. Reid also acknowledged that the Eagles would be happy to go into the season with McNabb, Kevin Kolb, and Michael Vick on the roster. "We think we have a great situation," Reid said. "That's where we're at. That doesn't mean we're not entertaining calls of anything. But right now, we feel very good about our quarterback situation ... very fortunate really."
Woods Set for April 5 News Conference
Tiger Woods will conduct his first news conference on April 5 at the Masters. This past Sunday, Woods conducted his first interviews since a sex scandal put his career on hold. The news conference is scheduled for 2 PM with accredited media on the Monday prior to play in the Masters ... his first tournament since winning in Australia on November 15.
Syracuse C Arinze Onuaku won't play against Butler Thursday night according to Syracuse coach Jim Boeheim. "He's getting better, but he's not practicing," Boeheim said. "He will not play." Boeheim wouldn't say whether Onuaku would be available for a potential Elite Eight game, if the Orange beat No. 5-seeded Butler in Thursday's East Regional semifinals. "He will not play this game, that's it," Boeheim said. "That's all I've got." Onuaku's injured right quadricep has kept him out since the Big East tournament.
After the jump ... Dwight Gooden charged with DUI, Yankees name their centerfielder, new contract for Northern Iowa coach, NFL new rules and maybe a new team for Pacman.
Former Major League Pitcher Dwight Gooden has been charged with driving under the influence of drugs and leaving the scene of an accident in New Jersey. Franklin Lakes police say the 45-year old was also charged with child endangerment. Gooden had a child in his car at the time of a 2-vehicle crash. It wasn't clear whose child it was. Gooden was released on his own recognizance until a municipal court hearing.
Northern Iowa Coach Gets Deal Extension
Northern Iowa's men's basketball coach Ben Jacobson agreed to a new contract that adds four years to his current deal. Jacobson was under contract through 2016 ... now has a deal through 2020. His current salary of $289,000 will increase to $450,000 ... and will increase $25,000 more for each year of the contract.
Tuesday, NFL owners changed the rules regarding overtime in the playoffs, on Wednesday, the key rule changes involved safety. The owners are banning hits on the head or neck of defenseless players by players who make contact with their helmet, shoulder or forearm. Previously, those hits were only illegal against defenseless receivers. Other changes include: the umpire will be moved to behind the offensive backfield (too many umpires were being run over) and play will be whistled dead when a ball carrier loses his helmet.
League Optimistic Lockout Will be Avoided In 2011
NFL owners seem to be confident a deal will be struck before the current collective bargaining agreement runs out at the end of the 2010 season. In the old agreement, the players were getting 60% of the revenue. The owners unanimously opted out of that deal in 2008 after rising costs of new stadiums and international expansion were causing them to lose money. Now there seems to be movement on both sides to get a deal signed and prevent a lockout in 2011.
Lions Interested In "Pacman" Jones
Lions head coach Jim Schwartz says his team is interested in signing troubled CB Adam "Pacman" Jones, though no deal is imminent. Schwartz was the defensive coordinator in Tennessee when Jones was drafted by the team in 2005. He was suspended by the NFL for the entire 2007 season after his 6th arrest in 2 years. The troubled corner/punt returner didn't play last year after being released by the Cowboys following the 2009 season.
Offseason Centerpiece In Centerfield
According to the New York Post, the Yankees have decided to go with Curtis Granderson in center on Opening Day. They had considered using Brett Gardner in center and Granderson in left, but early concerns about his defensive limitations have been calmed as spring training progressed.