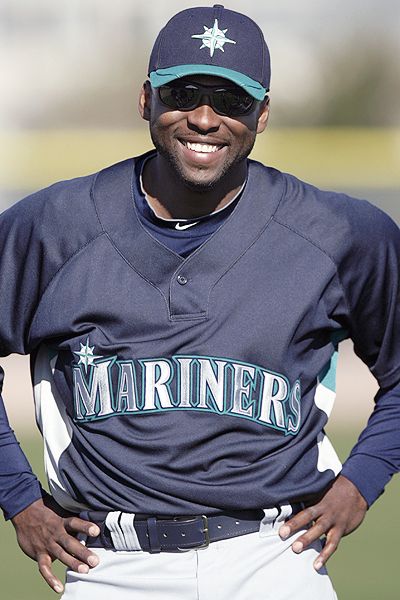 AP Photo/Paul Connors
Milton's next act: find a way to upstage Taylor Swift Joe Mauer.
When the Mariners traded for Milton Bradley they gambled on an explosive talent with an equally combustible reputation with umpires and teammates. It's a perception that has dogged the outfielder as he's jumped from the Expos to the Indians, Dodgers, A's, Padres, Rangers and Cubs. After getting tossed for the second time in three Spring Training games, it appears that the outfielder has resigned himself to his fate, that of a misunderstood free spirit. "If I was a musician, I'd be Kanye West," he said. "If I was in the NBA, I'd be Ron Artest. In baseball, they've got Milton Bradley. I'm that guy. You need people like me, so you can point your finger and go, 'There goes the bad guy.' "
Hold up, wait a minute, reformat the beginning of that quote:
If I was a musician, I'd be Kanye West
If I was in the NBA, I'd be Ron Artest
Sweet Lou Piniella, it all makes sense now. Intentional or not, Milton Bradley has begun to SPIT RHYMES. Plus, check out those shades, the persecution complex, his closeness to his mom. Milton Bradley truly is baseball's version of Yeezy. We wouldn't be surprised if he rocked Louis Vuitton batting gloves and Air Jordan Aqua 8s on the base paths.
Is this a trend, Big League ballplayers slowly evolving into their pop musical counterparts? Here' s who we're beginning to suspect:
Tim Lincecum: Quirky delivery, really beginning to capitalize on talent (financially speaking), could use a new haircut. Music equivalent >>> Jack Johnson
Albert Pujols: Consistent year-in, year-out. Working-class hero with small town roots. Always capable of producing a big hit. >>> Bruce Springsteen
Ryan Howard: Swings for the fences. Whiffs hard, but when he connects, will knock it out of the park. >>> Anthony Kiedis
Derek Jeter: Near-universal appeal reaches kingly status in New York. Relatively low profile for such a well-known celebrity. Underrated dancer. Formidably attractive partner in crime (see below). >>> Jay-Z
Mariano Rivera: No signs of wear and tear despite tremendously grueling career in show business. >>> Beyonce
Jonathan Papelbon: Wired to his own timetable. Tremendous if unpredictable talent. Awesome teeth. Best closer in the game? >>> Lil' Wayne
Joe Mauer: American sweetheart who broke out into superstar status. Great cheekbones. >>> Taylor Swift
Alex Rodriguez: May change image with the seasons, but you can't argue with the production. >>> Madonna.
Stephen Strasburg: Obsessed over by youngsters and creepy older handlers alike. >>> Justin Bieber
Roy Halladay: Quietly yet mercilessly efficient. Stands to be at the top of his game and looks to gain a swath of new fans now that he's out of exile. >>> John Oates
Jason Bartlett: Solid and unassuming, but blew up last year and could either take it to the next level or come back to earth. >>> Kings of Leon
Much like baseball, this game could go on forever. Who would you include?
t's a good, sobering piece, notable for this quote from Jody Gerut of Milwaukee about his former teammate, Milton Bradley: "Seattle's the chillest town there is. If you can't find peace playing the game in Seattle or San Diego, it's time to hire a full-time Sherpa."