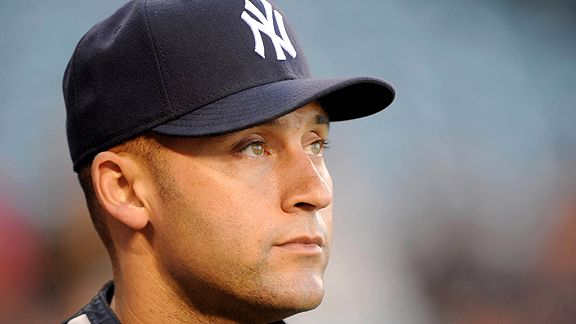 Kirby Lee/Image of Sport/US Presswire
Derek Jeter tries to imagine what the Florida Panthers would look like with pinstripe jerseys.
New York Yankees franchise shortstop Derek Jeter is a dreamer. He already has the captain's locker at Yankee Stadium, five World Series champion rings on his fingers, and a beautiful actress under his arm. What he doesn't have, and perhaps desires most, is a team to call his own. For real.
Jeter and the Yankees have mostly become one and the same since he entered the big leagues with the team in 1995. But Jeter continues to express his hope to one day be the stressed-out guy in the luxury box. As Jeter recently said, "The only interest I have in ownership is to be able to call the shots. I've said that time and time again."
Well, since Jeter is itching to get himself a professional sports franchise, we thought we'd do what we can to point him in the right direction. First things first, to determine which teams fall within his price range, let's take a look at his career earnings. Including his first full season with the Yankees in 1996 when he got paid a whopping $130,000, Jeter has collected a total of $182,830,000 in checks bearing Mr. Steinbrenner's signature.
That number doesn't include any bonuses Jeter earned along the way, nor does it include the additional $21 million he's set to take home this season. So assuming Jeter sets aside his bonuses and unknown millions in endorsements to live on, his 1996-2010 salaries add up to a grand total of just over $200 million, give or take a group outing on the Virgin Galactic spaceship.
Looking at various team values compiled by Forbes, we're already hoping Jeter doesn't have his sights set on his beloved Yankees - they're the most valuable MLB team out there (worth $1.5 billion). Even baseball's least valuable team, the Florida Marlins, are currently beyond his means ($277 million).
If Jeter wants to follow the Nike footsteps of Michael Jordan into ownership of an NBA franchise, he will likely have to find an investment partner. The least valuable team in the NBA, the Milwaukee Bucks, are also just a little too expensive ($254 million).
Jeter's best bets, it turns out, can be found in the NHL, where 15 teams are valued at $200 million or less. His number one option? Probably the New York Islanders, who are valued at a cool $149 million. Not bad for a New York City franchise considering Jeter wouldn't even have to leave town. Another good choice would be to stay near his offseason home in Florida as the new owner of the $159 million Florida Panthers.
With this in mind, when the 2010 baseball season begins to wind down and it becomes time for Jeter to start talking about his next contract, he'll be wise to remember that at present, his plans to buy a sports franchise of his own may literally be on ice. Another couple of years with the Yankees, though, and the sky's the limit. And no, we're not talking about the Chicago Sky of the WNBA.