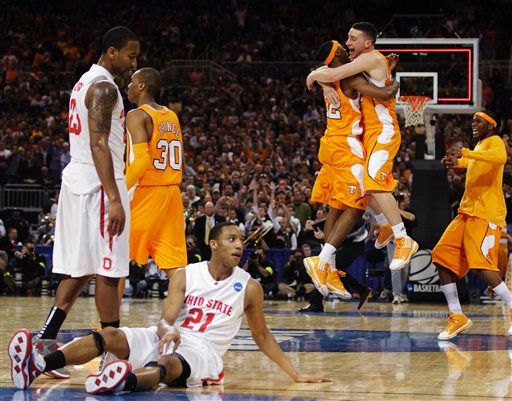 Tennessee's Scotty Hopson and Steven Pearl embrace after their 76-73 win over Ohio St.
AP Photo/Jeff Roberson
In the NCAA Men's Tournament on Friday, Baylor trounced Saint Mary's, Tennessee squeezed by Ohio State, Michigan State beats Northern Iowa and Duke handled Purdue.
Gilbert Arenas Avoids Jail Time For Gun Offense
Washington Wizards star guard Gilbert Arenas will not have to serve any jail time after a judge sentenced him to probation for bringing guns into the Verizon Center. D.C. Superior Court Judge Robert B. Morin issued the sentence of two years probation to begin with 30 days in a halfway house. He also ordered Arenas to serve 400 hours of community service and pay a $5,000 contribution to a fund for crime victims.
With Andy Reid and the Eagles listening to offers for Donovan McNabb, the Philadelphia Inquirer reports that if the quarterback was to leave, his preference would be to end up in Minnesota. Of course, the Vikings still have Brett Favre under contract for next season. And even if he retires, that decision could come too late for Minnesota to make the move. But still - something to pay attention to.
After the jump ... Cliff Lee shut down, Tebow reacts to criticism, update on Andrew Bynum, Bears looking to make a move, a tragedy at Florida International and reaction after a recent round of golf with Tiger Woods.
Cliff Lee's debut with the Seattle Mariners may come on the disabled list. Manager Don Wakamatsu said the team's medical staff decided the 2008 AL Cy Young Award winner, who is suffering from a strained abdomen since March 15, will not throw again until at least Wednesday. The Mariners will see how Lee's injury responds to the rest before deciding if he will go on the DL. The 31-year-old Lee felt pain in his lower-right abdomen for the second time in three days Thursday after some light throwing. The Mariners open the season April 5 at Oakland.
Tebow Not Offended By Comments
Tim Tebow defended Gators wide receiver Deonte Thompson, who recently made comments that some fans and media members considered to be critical of Tebow. Thompson had described new starter John Brantley as "a real quarterback," which some took as a swipe at Tebow. Tebow said, "I don't think Deonte meant anything by that ... He was just stating facts. Brantley is a guy who throws on timing. You know when the ball is coming and when it's not."
Lakers coach Phil Jackson said he doesn't anticipate C Andrew Bynum returning from injury before the team returns to Los Angeles next week. Bynum, who suffered a strained left Achilles' tendon against Minnesota Friday, is targeting the Lakers' first home game back against the Jazz April 2 or against the Spurs April 4 for his return. If Bynum misses those games he'd have an extra three days rest before the Lakers travel to Denver April 8.
Cavs All-Star LeBron James could win the NBA's scoring title every year, just ask him. Speaking to reporters Thursday in San Antonio, LeBron said, "If I really wanted to, if I REALLY wanted to win a scoring title, every single year, I could do it every single year! But it's not important to me."
Bears Trying to Move Alex Brown
According to the Chicago Tribune, the Bears are actively trying to trade Alex Brown. The nine-year veteran finished last season as a captain, but with the addition of Julius Peppers has left Brown as the odd man out. And if the club can't find a willing trade partner, it might just release him.
The Steelers re-signed backup QB Charlie Batch, keeping the unrestricted free-agent with the team for the next two years. Financial terms of the deal were not announced. Batch, a 13-year NFL veteran will enter his ninth season with the Steelers ... he spent his first four seasons with Detroit. Batch has 50 NFL starts in his career, four with Pittsburgh. He's completed 76 of 135 passes for 1,034 yards (56.4 percent), 8 TDs, 4 INTs and an 88.3 passer rating during his Steelers career.
Florida International tailback Kendall Berry was stabbed to death on the school's Miami campus late Thursday night. According to a Miami-Dade police spokesman, several witnesses saw Berry involved in an argument with at least one other person steps from the entrance to the school's rec center, where FIU athletes train. In the course of the argument, one of those involved stabbed Berry with an undetermined weapon. Friday evening, Miami-Dade police arrested the man they say killed Berry. Twenty-two-year-old Quentin Rashad Wyche turned himself in.
PGA Tour pro Ben Curtis decided to practice at Isleworth two weeks ago and wound up playing 18 holes with Tiger Woods. "He was a bit rusty," Curtis said with a grin. Players have been asked if it will be awkward to first see Woods on the golf course or to play with him when he returns to golf at the Masters. "Everybody that tells you that it was the same as before would be kidding themselves," Curtis said. "It was obviously a little bit different. When I saw him, no one had actually really seen him in public." Curtis said Woods appeared to be nervous, perhaps because it might have been his first time playing with a PGA Tour colleague.
Atlanta Braves rookie sensation Jason Heyward had a great day. The Atlanta Journal Constitution said Braves skipper Bobby Cox called Heyward Friday morning and told the Braves top prospect that he will open the season as the team's right fielder. Heyward was the Braves' first-round draft pick in 2007 and was named minor league player of the year last season by Baseball America after hitting .323 with 17 HRs over three minor league stops. The Braves open the season at home against the Cubs April 5.