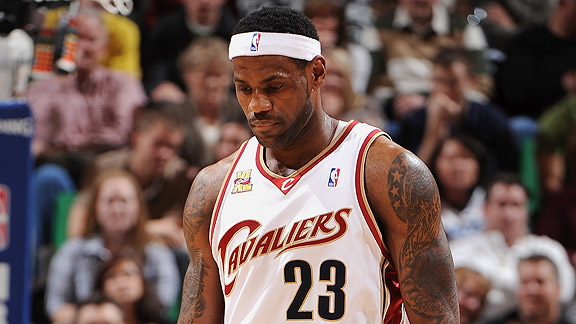 Andrew D. Bernstein/NBAE/Getty Images
Don't be sad LeBron, your fans are willing to eat hot sauce, live in tents, and do bellyflops to keep you on the Cavs.
As you surely know by now, LeBron James will become a free agent later this summer (July 1st, to be exact). While much of the discussion in the basketball world so far has been about where LeBron will end up (New York? Brooklyn? Chicago?), a growing number of fans in Cleveland are realizing that their time to convince Ohio's favorite son (sorry John Glenn) to stay with the Cavs is quickly running out.
One lifelong Cavs fan in particular has taken his "In LeBron We Trust" campaign to the Web to inspire LeBron to stay in Cleveland. And what better way to accomplish that goal than waxing your entire chest? Exactly. Cleveland native Brandon George has already stepped it up for that challenge and he's still got 22 more stunts to go.
George is well aware that there are less than 100 days until LeBron becomes a free agent. And he's not going to let his favorite player just leave Cleveland without trying to do something about it. With a nod to LeBron's #23 jersey, George has established InLeBronWeTrust.com and dedicated himself to enduring "23 ridiculous/painful/embarrassing things" to convince LeBron to re-sign with the Cavs.
First up? Well, that was the full chest wax, which looked quite painful. To be fair, though, when it comes to chest hair, Brandon George was no George "The Animal" Steele. That said, he's just getting started. His next challenge is a 23-hour "Kazaam" movie marathon. No question, after the first four viewings of Shaq's classic contribution to the genie genre, George will be wishing that LeBron had already changed his jersey to #6.
Assuming he's still alive after 23 straight hours of "Kazaam," George can look forward to being hypnotized, shaved, stuffed, stripped, tackled, embarrassed, possibly injured, and certainly tased. Oh, LeBron must be so proud. Feel free to go ahead and take a look at George's list. And if you've got a better idea of what he can do to convince LeBron to stay in Cleveland, you can even suggest your own dare idea - George, it turns out, is taking requests.