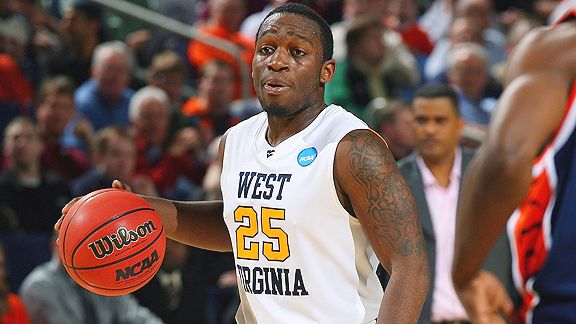 Rick Stewart/Getty Images
Bryant's Back
WVU point guard Darryl Bryant could be coming back. Bryant has missed the last two tournament games with a broken bone in his right foot but says he will play in the Final Four, according to FanHouse.com.
"I'm in pain, but I'll be fine," he said after the Mountaineers' 73-66 win over Kentucky. "That's what the shoe is for to keep the pain away. I can't hurt it anymore."
Junior point guard Joe Mazzulla subbed for Bryant against Kentucky and scored 17 points in the regional final victory, but fouled out late in the game. The Mountaineers don't have another primary ball handler so Bryant's return should be a big factor when they take on the winner of tonight's Baylor vs Duke matchup.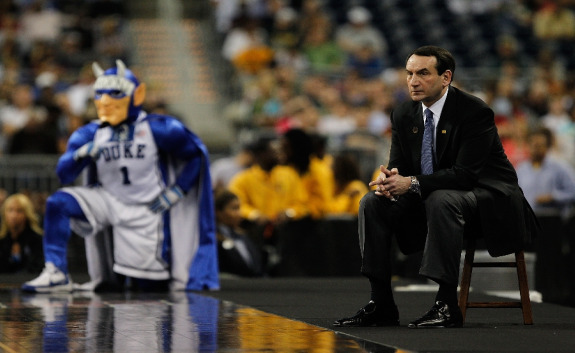 Jonathan Daniel/Getty Images
Coach K Not Sitting Comfortably
Duke head coach Mike Krzyzewski was very uncomfortable on his sideline stool Monday night in Reliant Stadium. He was so uncomfortable, that he almost returned to the bench to start the second half. Since the court at the stadium is elevated, the view from the bench is restricted. Eventually Coach K's assistants convinced him to stick it out with the stool, fearing Purdue would have an advantage if their head coach couldn't see the whole court..
"I stayed out there, but I never got comfortable," Krzyzewski said. "I felt like I was back in Catholic school and I did something wrong. It was like I was sitting there waiting for Scotty to beam me up."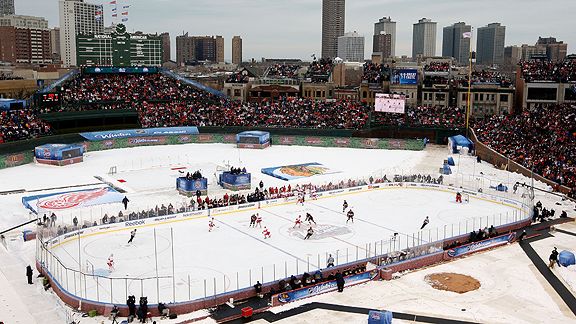 Jamie Squire/Getty Images
Caps and Pens Could Headline 2011 Winter Classic
Things are shaping up for the Washington Capitals to face the Pittsburgh Penguins at Heinz Field January 1, 2011 in the Winter Classic. The NHL doesn't usually make schedule announcements until mid-summer, but according to the Pittsburgh Post-Gazette it's looking like the league's two biggest stars, Alex Ovechkin and Sidney Crosby, will face off in the annual outdoor hockey match.
It would be the 2nd time Crosby has been showcased in the Winter Classic. In the first edition at Ralph Wilson Stadium in Buffalo, he scored the deciding shootout goal as the Penguins defeated the Sabres 2-1. The success of that game led the NHL to make it a yearly event at different locations including Fenway Park and Wrigley Field.