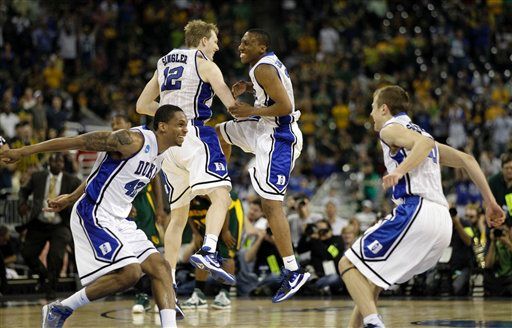 AP Photo/Eric Gay
Duke Tops Baylor For 1st Final Four Since '04
Duke put the only #1 seed into the NCAA tournament, getting 29 points from Nolan Smith in a 78-71 victory over Baylor. That put Coach K and the Blue Devils in college basketball's biggest event for the first time in six years. They'll face West Virginia in the semifinals.
Spartans Back To The Final Four
Raymar Morgan's free throw with less than 2 seconds left gave the Spartans a 70-69 victory over Tennessee in the Midwest Regional final. That sends Michigan State to its sixth Final Four in 12 years and second straight. The Spartans, who were last year's national runner-up, will be looking for title #3. They play Butler who will be the hometown favorite, in the semifinals Saturday night.
Darryl Bryant 90 Percent Sure He'll Play
West Virginia point guard Darryl Bryant could be coming back. Bryant has missed the last two tournament games with a broken bone in his right foot but says he will play in the Final Four. "I might play the next game,'' Bryant said. "A shoe is being made to take all the pressure off the area. I probably will be able to play in the next game.''
After the jump ... Steve Lavin talking to St. John's, Iowa's new coach, Big Ben won't be a distraction, Joba's in the pen ... for now, weather issues for NASCAR and the PGA Tour, and a possible Capitals - Penguins matchup in the Winter Classic.
Source: Roethlisberger To Miss Workouts
Steelers quarterback Ben Roethlisberger will not report to the Steelers off-season conditioning program Monday, according to a team source. After discussing whether Roethlisberger's presence on Monday would create too much of a distraction, the decision was made for him not to attend the team's off-season program.
Steve Lavin To Talk With St. John's
ESPN's Andy Katz reports that Former UCLA coach and current ESPN analyst Steve Lavin will meet with St. John's athletic director Chris Monasch Monday in New York after a lengthy conversation Sunday night, multiple sources told ESPN.com Sunday. Lavin has been an analyst for ESPN the past six seasons. He coached UCLA for seven seasons from 1996 to 2003, leading the Bruins to the Elite Eight once and the Sweet 16 five times. St. John's is searching for a replacement for Norm Roberts, who Monasch fired after the Red Storm lost at Memphis in the first round of the NIT.
Fran McCaffery has decided to leave Siena to become the new basketball coach for the Iowa Hawkeyes. Athletic director Gary Barta announced the hiring Sunday and said McCaffery would be introduced in a press conference on Monday in Iowa City. McCaffery went 112-51 in five seasons at Siena, leading the Saints to three consecutive NCAA tournament appearances. They lost to Purdue in the first round this year and finished with a 27-7 record. McCaffery replaces Todd Lickliter, who was fired after Iowa went 10-22 this year.
Yankees Pitching Coach Says Joba Is A Reliever ... This Year
It looks like Joba Chamberlain has a home … for now. According to Yankees pitching coach Dave Eiland, Chamberlain will remain in the bullpen for the duration of this season. He had been shuffled in and out of the pen for the past three years leading some to question whether the constant moving was affecting his production. Yankees GM Brian Cashman added that this decision applies just to this season.
NASCAR Postpones Race To Monday
For the second year in a row, rain pushed a Martinsville Speedway event into the work week. Last spring, the truck series event had to be run on Monday. On Sunday, rain forced the postponement of the Sprint Cup race until Monday at noon.
Els Loses Ground At Bay Hill Before Play Stopped
Even though Ernie Els will have a two-shot lead with four holes remaining when the Arnold Palmer Invitational resumes Monday, Els is not feeling overly confident. One minute he was five shots ahead and cruising toward his second straight victory on the PGA Tour. Then came a shot into the water, another shot into the sand, and Els was facing a restless night.
Caps and Pens Could Headline 2011 Winter Classic
Things are shaping up for the Washington Capitals to face the Pittsburgh Penguins at Heinz Field January 1, 2011 in the Winter Classic. The NHL doesn't usually make schedule announcements until mid-summer, but according to the Pittsburgh Post-Gazette it's looking like the league's two biggest stars, Alex Ovechkin and Sidney Crosby, will face off in the annual outdoor hockey match.
The Associated Press contributed to this report.