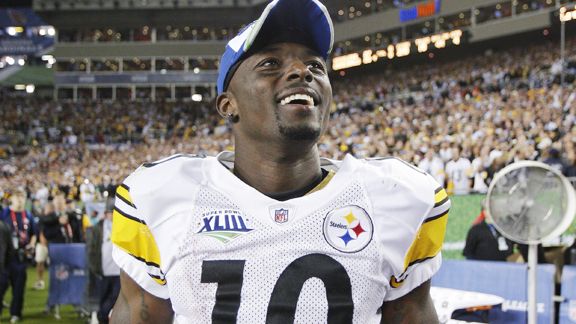 AP Photo/Amy Sancetta
Steelers Receive(r) More Unwanted Attention
Steelers WR and Super Bowl MVP Santonio Holmes is accused of throwing a glass and injuring a woman's face at a Florida nightclub March 7th. No criminal charges have been filed but he is facing a civil suit. Holmes told ESPN's Rachel Nichols he has confidence that this matter "will be taken care of quickly, within the next 24 hours." When asked about the specifics of the case, he said "I really don't have much to say about it because I didn't do anything. My lawyer is handling it from here."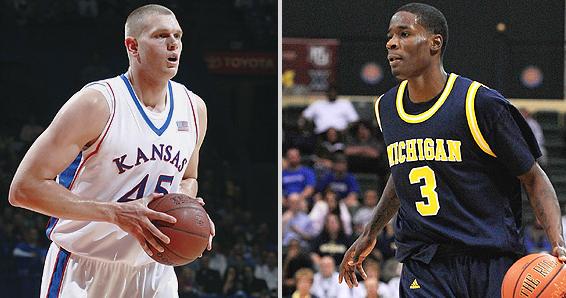 Getty Images
NBA, Here We Come
Kansas junior forward Cole Aldrich (#45) will announce he's leaving for the NBA draft at a news conference at 4:30 p.m. Monday, a source close to Aldrich and Kansas told ESPN.com's Andy Katz. Aldrich, a projected lottery pick, averaged 11.3 points and 9.8 rebounds this season. The 6-11, 245-pound Aldrich is considered one of the top big men in the June NBA draft.
Other underclassmen deciding to test the waters of the NBA:
Michigan junior guard (#3) Manny Harris
Seton Hall junior forward (#15) Herb Pope
The deadline to declare for the draft is April 25. Under a new NCAA rule, college players have until May 8 to withdraw their names from the draft pool. Teams can start working out players as early as April 29.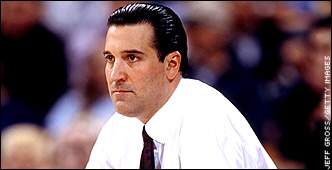 About That Vacancy
Former UCLA coach Steve Lavin will interview with St. John's today, a source told ESPN college basketball insider Andy Katz. Lavin has been an ESPN analyst since UCLA fired him in 2003. He had a 145-78 record with the Bruins, leading the school to the Sweet 16 five times. The Bruins reached the Elite 8 in 1997, his first season. Georgia Tech coach Paul Hewitt turned down an offer from St. John's last week. Boston College coach Al Skinner interviewed for the job Friday. The Red Storm fired Norm Roberts after six seasons and has not been to the NCAA tournament since 2002.
The Associated Press contributed to this report.