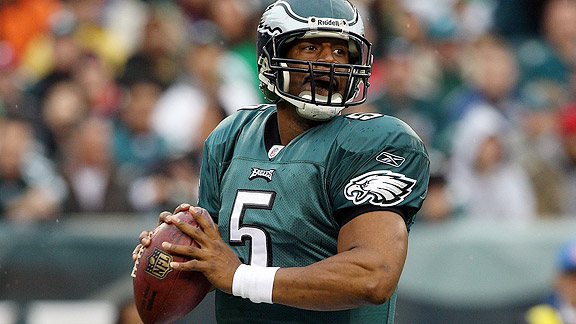 Jim McIsaac/Getty Images
Eagles QB Donovan McNabb may soon have a new home. The Oakland Raiders have emerged as a big player in the McNabb sweepstakes. ESPN NFL Insider Adam Schefter has learned that the money owed to the former Pro Bowler is not an issue, and they may be willing to meet the Eagles demand of a top 42 pick.
Cousins, Wall Headline AP All American Team
Kentucky's freshman stars DeMarcus Cousins and John Wall became just the 9th pair of teammates named to the AP All-American first team. Syracuse's Wes Johnson, Ohio State's Evan Turner, and Villanova's Scottie Reynolds rounded out the rest of the first team.
Oregon needs a new coach and they are targeting one of the best. Reports out of Oregon say the Ducks administration, backed by Nike owner Phil Knight, are prepared to offer Michigan State coach Tom Izzo the largest contract in NCAA basketball history.
After the jump: Tebow visits Buffalo, Aldrich Declares for the NBA, Holmes is Sued, Lavin Meets with St. Johns, and Sam Bradford's Pro Day.
Tebow Wined and Dine by the Bills
The Buffalo Bills have publicly admitted their interest in Tim Tebow. On Sunday night Hall of fame QB Jim Kelly took Tebow out to dinner as part of the trip Buffalo. The Bills could be looking at using their 2nd round pick, 41st overall, on the former Heisman Trophy winner.
Kansas center Cole Aldrich declared his eligibility for the NBA Draft Monday. Aldrich is considered to be one of the best players in the draft this year and could be a top-10 pick. Freshman forward Xavier Henry is still weighing his options but could be the next Jayhawk to move on to the NBA.
A woman is suing Steelers WR Santonio Holmes for allegedly throwing a glass which shattered and cut her above the right eye. The woman claims Holmes threw the glass when she refused to leave a couch inside the Florida night club. No charges have been filed so the lawsuit remains a civil matter.
Steve Lavin Interviews with St. Johns
Former UCLA coach and current ESPN analyst Steve Lavin interviewed with St. John's Monday about their open coaching position. Though Lavin is a "west coast guy" he says he would be willing to put together a great group of recruiters to help him keep the best NYC basketball talent from fleeing the city.
Bradford Shines at Oklahoma Pro Day
Oklahoma QB Sam Bradford completed all but one of his throws on his way to an impressive pro day. Bradford is considered one of the best players in the draft and could be the No. 1 overall pick by the St. Louis Rams. He is also scheduled to work out privately for the team on April 19th.