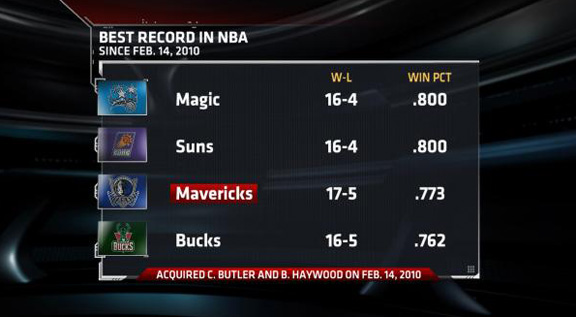 Mavericks 109, Nuggets 93
SAVING THE BEST FOR LAST: The Dallas Mavericks traded for Caron Butler and Brendan Haywood during the NBA All-Star break and have been one of the best teams in the NBA since. During that stretch, they've won 13 straight games and climbed from the 8th best record in the NBA to the 4th best overall. The Mavericks avenge their 36-point loss the last time these two teams met (Feb. 9, 2010 - their worst loss of the season), taking two of three in the season series against the Nuggets.
After the jump, find out why it's been March Madness of a different kind for the Lakers, why New Jersey is cutting down the Nets and see why the Raiders need an upgrade at the QB position.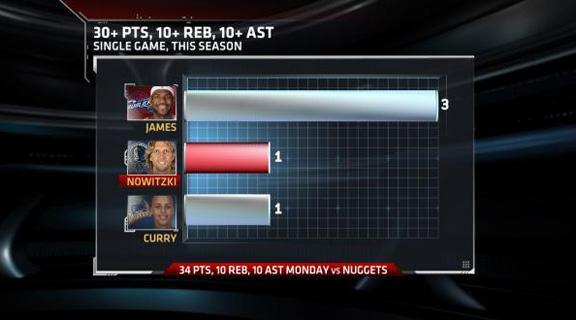 REDEFINING BIG D: Dirk Nowitzki recorded his second career triple-double; he's the first Mavericks player with 30-10-10 since Michael Finley on December 23, 1999. Each of the last 3 times a Mavericks player had done this it had come against the Suns. Only LeBron James and Stephen Curry have also had 30-10-10 games this season. The Nuggets have lost 5 of 6 and finish their 5-game road trip with a 1-4 record. Chauncey Billups and Carmelo Anthony combined to shoot 6-30 (20 pct). Tim Legler said on SportsCenter today we should expect to see Dirk get some votes on the NBA MVP ballot again this year.
Game Recap | Box Score | Highlight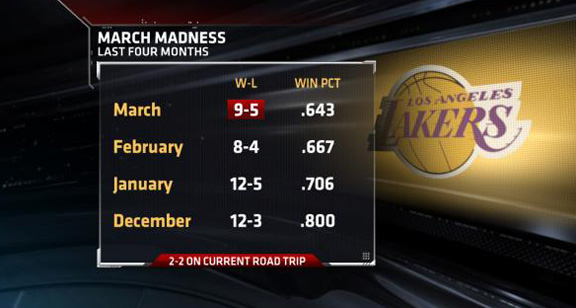 Hornets 108, Lakers 100
CP3, HORNETS STING LAKERS: This month has been a March Madness of a different kind for the Lakers. Los Angeles is 9-5 this month including blowout losses to the Bobcats and Thunder. Last night, Chris Paul (15 points, 13 assists) records his first double-double since Jan. 29 and picks up his most points and assists since his return from injury as the Hornets win for just the 3rd time in their last 11 games overall. For the Lakers, Pau Gasol (26 points, 22 rebounds) records his 2nd career 20-point/20-rebound game (both coming this season) and also ties his career-high for rebounds in a game.
Game Recap | Box Score | Highlight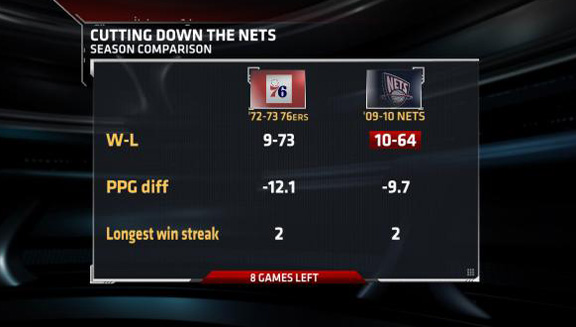 Nets 90, Spurs 84
NETS AVOID WORST RECORD IN NBA HISTORY: The Nets avoid sharing history with the 1972-73 76ers and had some room to spare with 8 games remaining on the schedule. In addition, the team picked up their first win vs the Spurs since Nov. 13, 2002 and become the first single-digit-win team to defeat a 40+ win team since April 12, 1994. The Nets' next goal, win at least three straight games. They've won back-to-back games just once this season, something the 76ers did twice in their 9-73 season.
Game Recap | Box Score | Highlight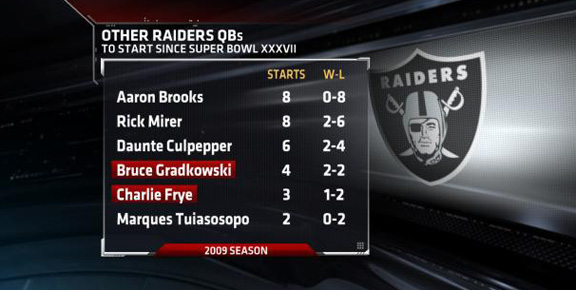 WHO'S NEXT: Since Super Bowl XXXVII (Jan. 26, 2003), 6 other quarterbacks have started in Oakland, including such names as Aaron Brooks and Rick Mirer. Bruce Gradkowski and Charlie Frye combined for 7 starts last season, winning three games. Notice the W-L column...ouch.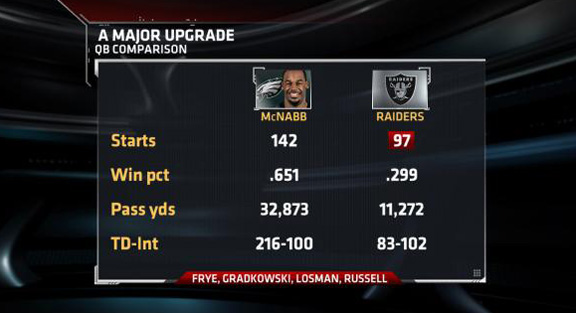 UPGRADING RAIDERS OFFENSE: McNabb would be an immediate upgrade over any of the Raiders current quarterbacks*. Not one of the quarterbacks on Oakland's roster has a winning record in their career and they have combined to throw 19 more interceptions than touchdowns.
*Quarterbacks on Raiders roster: JaMarcus Russell, Bruce Gradkowski, Charlie Frye
NOTE: The Elias Sports Bureau and ESPN Stats and Information Group contributed to this report.