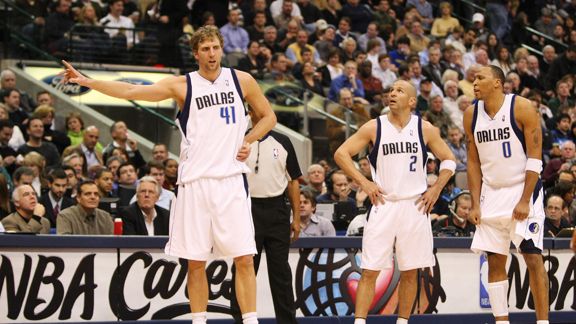 Matthew Emmons/US Presswire
Confused, Dirk Nowitzki asks for time as he tries to piece together the Western Conference standings.
Barring a collapse of Jean Van de Velde proportions, the Lakers will be the No. 1 seed in the Western Conference when the NBA playoffs begin on April 17th. The Lakers are 54-20 and hold a five game lead over the Mavericks with just eight games to play. However, figuring out seeds two through eight is more confusing than locating Waldo in the world of Gobbling Gluttons.
The Mavericks currently have the best record (49-25) of the likely seven playoff teams, but Dallas, Utah, Phoenix, Denver, Oklahoma City, Portland and San Antonio are all within 4.5 games of each other. We broke down each team to determine who's got the inside track on making a move up the Western Conference food chain during the remaining two weeks of the regular season.
8. San Antonio Spurs (44-29) Remaining Schedule (HOU, ORL, @LAL, @SAC, @PHO, MEM, @DEN, MIN, @DAL)
What's Working In Their Favor - Manu Ginobili is on fire. On top of destroying creatures of the night, stuffing KG and swatting the Durantula, the "Beast from Bahía Blanca" has averaged 28.2 PPG over his last five contests. Ginobili is a free agent after this season and seems fittingly motivated to find that one last big contract.
What's Working Against Them - San Antonio just lost to New Jersey 90-84 on Monday night. Can you trust a playoff team that loses to the Nets at the end of the year? Tony Parker or not, don't be those guys San Antonio.
7. Portland Trail Blazers (45-29) Remaining Schedule (NY, @DEN, @SAC, @LAC, DAL, @LAL, OKC, GS)
What's Working in Their Favor - The Blazers have won 11 of their last 13 games and play four non-playoff teams down the stretch. If they take care of business and win their home games they could be staring at home-court in round one.
What's Working Against Them - The injury bug has wreaked havoc on Portland. Greg Oden was KO'd for the season, Brandon Roy has missed 15 games, and Nicolas Batum and Rudy Fernandez have combined to miss another 65 games. This team spends so much time in training room they should get tricked-out gurneys. It's tough to develop team chemistry with a different lineup every night.
6. Oklahoma City Thunder (45-28) Remaining Schedule (@BOS, @DAL, MIN, @UTAH, DEN, PHO, @GS, @POR, MEM)
What's Working in Their Favor: Kevin Durant will be playing extra-hard over the last eight games as he competes with LeBron for the NBA's scoring title.
What's Working Against Them: Kevin Durant (29.6 PPG), Russell Westbrook (16.1 PPG), Jeff Green (14.9 PPG) and James Harden (10.0 PPG) are the Thunder's four leading scorers. They've also played in 0 playoff games. April basketball has a playoff atmosphere and experience could be a huge factor.
5. Denver Nuggets (48-27) Remaining Schedule (PORT, LAC, @OKC, LAL, SA, MEM, @PHO)
What's Working in Their Favor: Denver plays five of their remaining seven games at home. Of the seven playoff teams competing for spots two through eight, Denver has the best home record (30-6).
What's Working Against Them: WWE's Vince McMahon knows where the Nuggets live and could be plotting revenge for last year's scheduling conflict when Denver booked WWE the same night as their playoff game versus the Lakers. A Tombstone on Carmelo Anthony would sideline him for the remainder of the regular season and really disrupt Denver's squad.
4. Phoenix Suns (48-26) Remaining Schedule (@NJ, @DET, @MIL, SA, @OKC, HOU, DEN, @UTAH)
What's Working In Their Favor: The Gorilla is a Hall of Fame mascot and should provide Phoenix tremendous team spirit and motivation over the last two weeks.
What's Working Against Them: Suns starters Amare Stoudemire and Grant Hill may care more about each other than the rest of the team.
3. Utah Jazz (49-26) Remaining Schedule (GS, @LAL, OKC, @HOU, @NO, @GS, PHO)
What's Working In Their Favor: Jerry Sloan is the longest-tenured coach in professional sports, leading Utah for his 22nd straight season. J-Slo will have the troops ready when it counts.
What's Working Against Them: Their memories of 2009. The Jazz were 46-27 last year and looking to secure home-court in round one when they lost seven of their final nine games and landed the eighth spot and a date with the Lakers. Unfortunately for Utah, the science of memory removal has yet to be perfected. Lacuna Inc. only exists in the film "Eternal Sunshine of the Spotless Mind."
2. Dallas Mavericks (49-25) Remaining Schedule (@MEM, ORL, OKC, MEM, @POR, @SAC, @LAC, SA)
What's Working In Their Favor: The Mavs are 16-5 with Caron Butler in their lineup and, more importantly, they control their own destiny.
What's Working Against Them: The Mavs players may realize Rick Carlisle looks just like Jim Carrey and stop taking him seriously in the huddle. Mark Cuban should tell Carlisle to grow a beard ASAP.