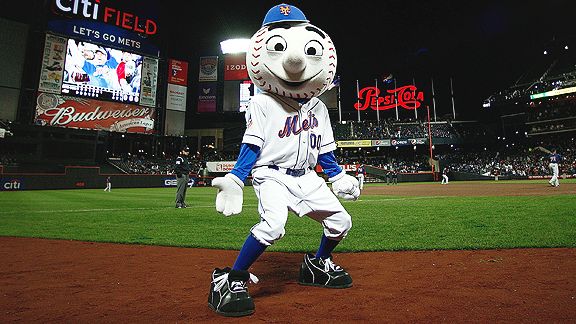 Mike Ehrmann/Getty Images
If Mr. Met doesn't get some better-fitting shoes, he's going to be the next Met on the DL.
Last year when Citi Field opened, Mets fans complained that their team's new digs didn't have enough team history built in. This year, they're complaining that the newly added historical touches are factually inaccurate. Man, Mets fans whine about everything!
Except, they might be right here. Turns out one of the new "Amazin' Moments" granite squares that were installed lacked a certain degree of truthiness. Something about Sid Fernandez being credited as the winning pitcher in Game 7 of the 1986 World Series, when everyone (or at least the guys at MetsPolice.com, who alerted the Mets to the error) knows Roger McDowell actually got the W. The Mets quickly removed the stone and are working on a replacement. But we wonder how they're doing with getting these other "Amazin' Moments" committed to granite squares.
One day in 1980 – Bobby Valentine "Invents" the Wrap
As in the wrap sandwich. We confirmed this claim on Al Gore's internet. As the story goes, Bobby's banker wanted a club sandwich but the toaster wasn't working. So he took some bacon, lettuce, and tomato, wrapped it in a tortilla, melted some cheese on the top, cut it in threes, put some toothpicks in it, and voila! The wrap was, uh, born and Bobby V was the immaculate conceiver!
Sometime in 1986 – Lenny and Roger visit MTV
In an awesomely uncomfortable interview, in which Lenny Dykstra hits on MTV VJ Martha Quinn and Roger McDowell laughs uncomfortably, Lenny and Roger talk about their favorite bands and show the world the "Let's Go Mets" video. The world is still recovering.
June 14, 1987 – Keith Hernandez Spits a Magic Loogie
At least, that's how Kramer and Newman tell it on "Seinfeld." Never mind Jerry's assertions that there must have been a second spitter. Or the fact that in real life, the Mets were actually playing in Pittsburgh that day, not at home against the Phillies.
July 24, 1993 – Anthony Young is Officially the Worst
Mets pitcher Anthony Young walked away from his March 6, 1992 outing with a loss. And the one after that, and the one after that, and the one after that … . All told, Young's streak of consecutive losses lasted 27 games, an MLB record. During the dismal stretch, fans sent Young four-leaf clovers, horseshoes, and rabbit's feet. And he still has them all in a box in his attic.
January 7, 1996 – Mr. Met Makes a Play for SVP's Job
It seemed Mrs. Met thought her husband was ready to move past greeting fans and posing for pictures on game day and ready to enter the wonderful world of sports commentating. Mr. Met never got Van Pelt's job, but he did return to Bristol, Conn. under much sadder circumstances.
June 9, 1999 – Bobby V Dons a Disguise
Mets manager Bobby Valentine was tossed in the 12th inning of a 14-frame game against the Blue Jays for arguing a call on catcher's interference. No biggie. What was a biggie was that Valentine put on a fake mustache (with eye black!) and a pair of sunglasses and returned to the dugout. The league didn't dig the move – Valentine was fined $5,000 and given a two-game suspension.
October 22, 2000 – Piazza vs. Clemens II
Never mind that it was Game Two of the 2000 World Series – a Subway Series between the Mets and Yankees. It was the rematch of Clemens vs. Piazza, a battle that had started three months earlier when Clemens hit Piazza in the noggin with some high heat. We guess you could say the showdown lived up to the hype, if the "hype" included a crazed Roger Clemens running after Mike Piazza with a bat shard.