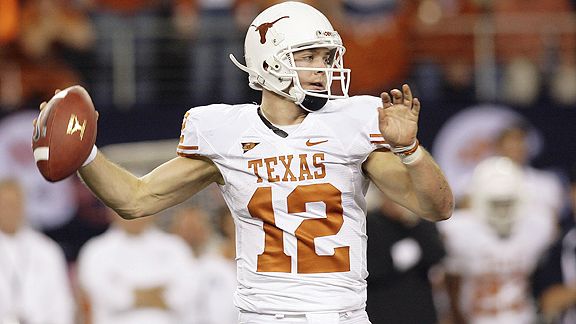 Brett Davis/US Presswire
Colt McCoy threw today at the Texas Longhorns' pro-day ... First time he's thrown in public since injuring his shoulder in the BCS championship game. McCoy is the third-rated quarterback in the draft according to most experts and is projected to go in the second round. After his performance today, McCoy seemed pretty excited about what he'd done and what it may mean for his immediate future. He has plans to visit the Cleveland Browns just before next month's draft.
Minnesota Twins outfielder Denard Span hit a foul ball that struck his mother in the chest in the first inning of today's spring training game against the New York Yankees. Span's mother, Wanda Wilson, was watching the game with about 20 family members and friends. Span took a defensive swing against the Yankees Phil Hughes and hit a line drive towards her seat next to the Twins dugout. Span sprinted from the batters' box to the stands and stayed while paramedics treated her. Twins manager of BB communications Dustin Morse said she was sore, but OK. Span returned to the plate with the count 3-2 and struck out looking on the next pitch.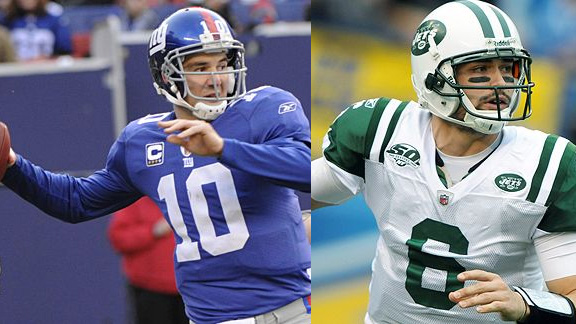 AP Photo/Bill Kostroun & Kirby Lee/US Presswire
Jets vs. Giants In New Stadium
The NFL released the pre-season schedule today and what better way to get things started than a Big Apple showdown between the New York Giants and the New York Jets? Monday, August 16th the preseason schedule kicks off with the two New York based teams opening their brand new $1.6 billion stadium on ESPN. This is the 42nd consecutive season the Giants and Jets will meet in the preseason with the Jets holding the series lead 22-18-1.
The Associated Press contributed to this story.