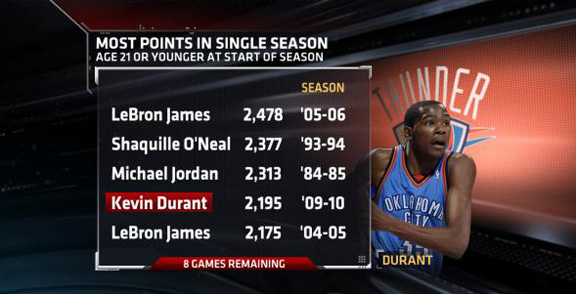 Thunder 109, Celtics 104
MONEY MAN: Kevin Durant's season just keeps getting more impressive. With nearly 22,000 points this season, only LeBron, Shaq and Jordan have scored more points in a season by someone who started the season 21 or younger and Durant can still move up this list with 8 games remaining.
Game Recap | Box Score | Highlight
After the jump, find out why the Lakers are desperate to get back to the Staples center, who will win the AL West according to AccuScure and inside Colt McCoy's career FBS ranks.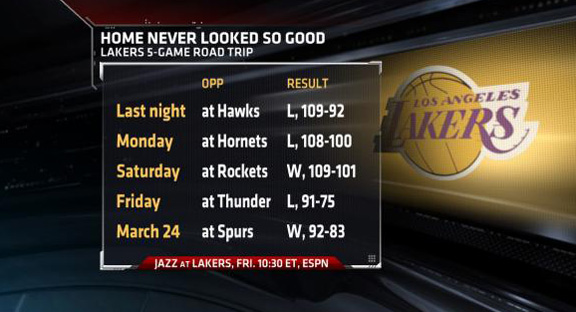 Lakers 92, Hawks 109
ROAD RULES: The Lakers have to be looking forward to going home after a grueling 5-game road trip. After starting the trip with a win over the Spurs, the Lakers lose 3 of 4, including double-digit losses to the Hawks and Thunder. Their next game is Friday at home against the Jazz, a game you can see on ESPN.
Game Recap | Box Score | Highlight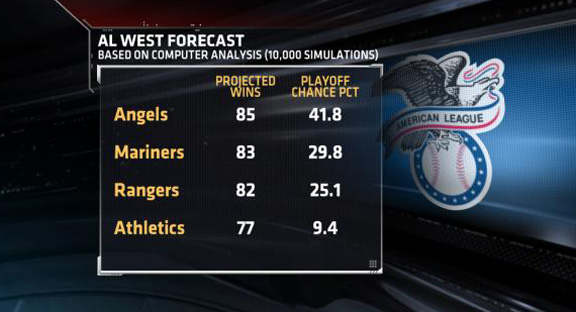 ANGELS IN THE OUTFIELD: According to 10,000 season simulations done by "AccuScore", the Angels are projected to win the AL West with a total of just 85 wins. According to its simulations, only eight wins separates the Angels in first and the A's in last. Those 85 wins only give the Angels a 41.8 percent chance to make the playoffs.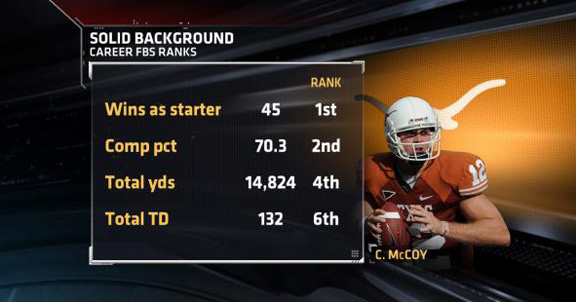 HEAD OF THE CLASS?: Colt McCoy will leave college football as the all-time winningest quarterback, notching 45 wins as a starter at Texas. His 70.3 career completion percentage is 2nd all-time in FBS history, and his nearly 15,000 total yards rank 4th.