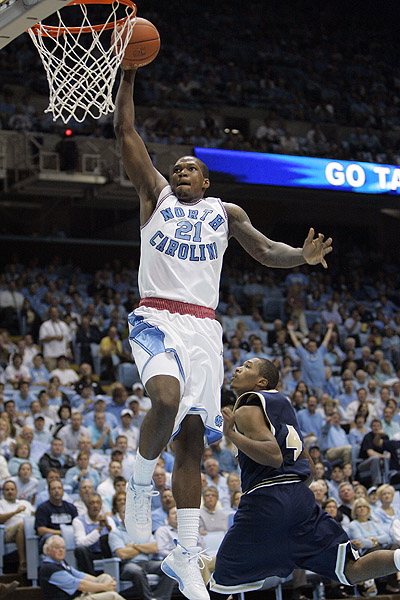 AP Photo/Gerry Broome
North Carolina Tar Heels (20-16, 5-11 ACC) vs Dayton Flyers (24-12, 8-8 A 10)
7:00 PM ET, April 1, 2010 -- Madison Square Garden, New York, NY -- ESPN, ESPN360.com
When North Carolina's Deon Thompson takes the floor in tonight's NIT Final, it will be his 152nd career game, the most of any player in men's college basketball history (he currently shares the mark with Walter Hodge of Florida and Wayne Turner of Kentucky). Dayton is in the NIT title game for the first time since 1968, when they won the title by beating Kansas. North Carolina is there for the second time in school history, last reaching the final in 1971. If UNC wins, they will join Kentucky as the only schools with multiple NIT and NCAA Tournament championships. In 1971, North Carolina won the NIT and then advanced to the Final Four the following season. In 2010, the Heels are looking for the NIT title one year after it defeated Michigan State for the NCAA Championship.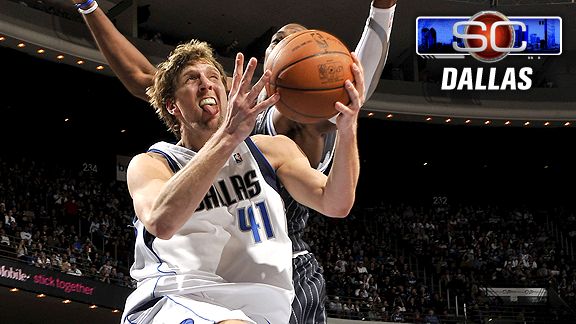 Fernando Medina/NBAE via Getty Images
Orlando Magic (52-22) vs Dallas Mavericks (50-25)
8:00 PM ET, April 1, 2010 -- American Airlines Center, Dallas, TX
The Magic are trying for their 14th win in 17 games, but beating PF Dirk Nowitzki and the Mavericks is no easy task. Dallas has won 6 of the last 7 against Orlando. Magic C Dwight Howard, who pulled down at least 1000 rebounds in each of the previous four seasons, leads the NBA with 986 rebounds this season. Howard is on the verge of becoming the first NBA player in more than 25 years to post 1000 rebounds in at least five straight seasons. Moses Malone did it last when he had a five-season streak from 1978-79 to 1982-83.
Game Preview: Magic vs Mavericks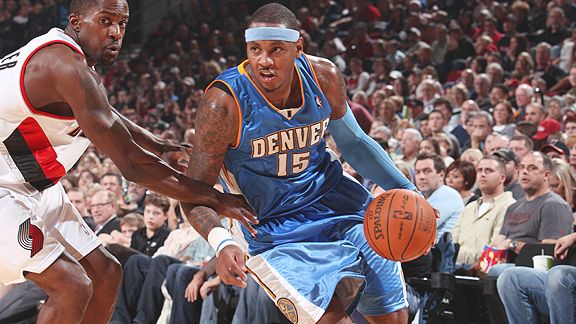 Sam Forencich/NBAE/Getty Images
Portland Trail Blazers (46-29) vs Denver Nuggets (48-27)
10:30 PM ET, April 1, 2010 -- Pepsi Center, Denver, CO
Denver returns home tonight hoping to avoid a sixth loss in seven games when it hosts the red-hot Trail Blazers. Despite the current slump by the Nuggets, SF Carmelo Anthony should be able help. The Nuggets all-star has scored at least 30 points in all 3 games against Portland this season. The Trail Blazers have won 12 of 14 to clinch a playoff berth, and pull within one-half game of the Thunder and two of the Nuggets.
Game Preview: Blazers vs Nuggets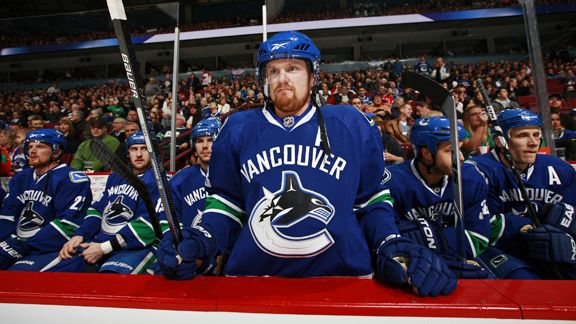 Jeff Vinnick/NHLI/Getty Images
Vancouver Canucks (46-26-4) vs Los Angeles Kings (43-27-6)
10:30 PM ET, April 1, 2010 -- STAPLES Center, Los Angeles, California
The Canucks can beat Los Angeles for a sixth straight time as the teams meet tonight 's potential first-round playoff preview. C Henrik Sedin is making a case to win the Hart Trophy as league MVP. He is one goal away from becoming just the third player in the last 10 seasons with 30 goals and 75 assists in one season (Evgeni Malkin in 2008-09 and Sidney Crosby in 2006-07).
Game Preview: Canucks vs Kings
Note: The Elias Sports Bureau and ESPN Stats and Information group contributed to this report.