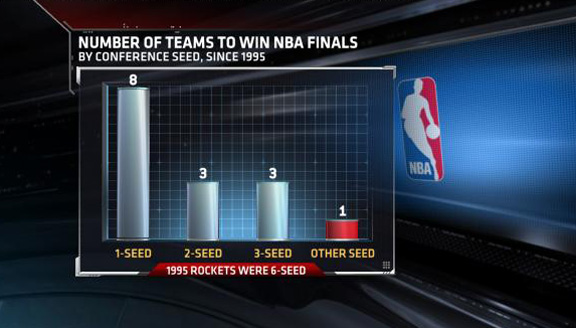 BEST OF THE BEST PART 1: With the NBA season winding down, lets look at how seeding impacts the NBA playoffs. NBA champions usually come from the top tier of teams. Over the last 15 years, 8 champions were their respective conference's top seed. And 11 were either the 1 or 2 seed. Only 1 team in that span won the title with a seed lower than 3 -- that was the '95 Rockets, who were the West 6 seed. Currently, the Cavs and the Lakers are the two number one seeds in the NBA.
After the jump, how seeding impacts the NHL playoffs, inside the Lakers roller-coaster month of March, what's next for UNC and why the 49ers should go after Donovan McNabb.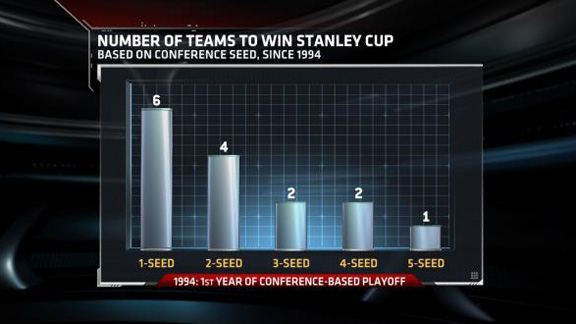 BEST OF THE BEST PART 2: In the Stanley Cup Final, since the NHL went to a conference-based playoff system in 1994, 9 of the 15 champions were NOT the top seed in its respective conference...Those numbers should have fans in Washington and San Jose nervous.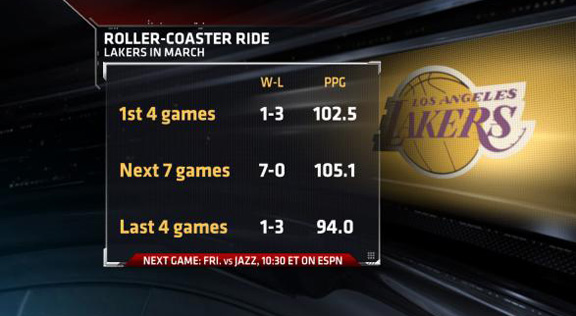 HOT AND COLD: The Lakers had an up-and-down March. First there was a 3-game losing streak at the beginning of the month - all on the road. Then the Lakers went on a 7-game win streak, scoring 105 points a game. But then they lost 3 of their last 4 games in March, the last being Wednesday's 17-point defeat at Atlanta. Maybe they're saving their energy for the playoffs.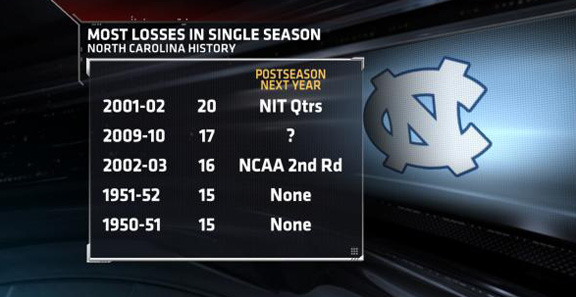 CAROLINA BLUES: After last nights NIT Championship loss to Dayton, North Carolina finishes with the 2nd-most losses in a single season in school history. Only once have the Tar Heels made it to the NCAA tournament the season after losing 15 or more games. That was in 2003-04, which was Roy Williams' 1st season when North Carolina lost in the 2nd round. Hard to imagine with all the talent headed to Chapel Hill the Tar Heels will miss the NCAA tournament next season.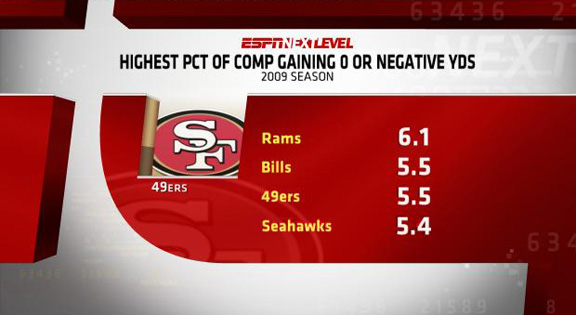 QUARTERBACK QUAGMIRE: We go next level to show an area where the 49ers "excelled" last season, and it's not a good thing. The 49ers had 5.5 percent of their total completions last season go for zero or negative yards. The only two teams who were worse last year also have QB issues they're trying to solve this off-season -- the Rams and the Bills. Can you say McNabb!
Note: The Elias Sports Bureau and ESPN Stats and Information Group contributed to this report.