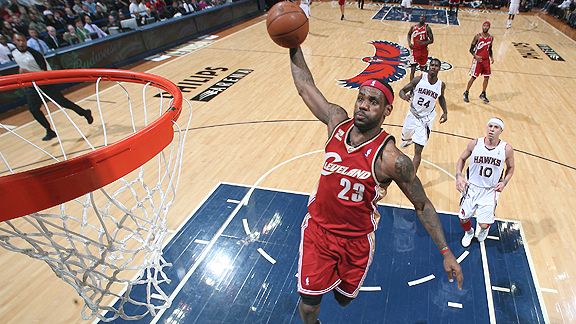 Scott Cunningham/NBAE/Getty Images
Atlanta Hawks (48-26) vs Cleveland Cavaliers (59-16)
8:00 PM ET, April 2, 2010 -- Quicken Loans Arena, Cleveland, OH -- ESPN, ESPN360.com
The Cleveland Cavaliers can clinch the best record and #1 seed in the Eastern Conference with any combination of two wins or two Orlando Magic losses.
The Cavs could become the 12th team in NBA history to have consecutive 60-win seasons. Nine of the previous 11 won the NBA title at least once in that span. Over the last two seasons, no team has beaten the Lakers and Cavaliers in consecutive games (in either order); the Hawks look to do so tonight. LeBron and company have won 16 of their last 18 games, including 9 in a row at home. Atlanta has already clinched a playoff berth, and the happiest Hawk is probably Jamal Crawford, who has played in more regular-season games than any active player without appearing in a postseason game. For you dunk fans, Josh Smith has 128 dunks this season, third in the NBA.
Game Preview: Hawks vs Cavaliers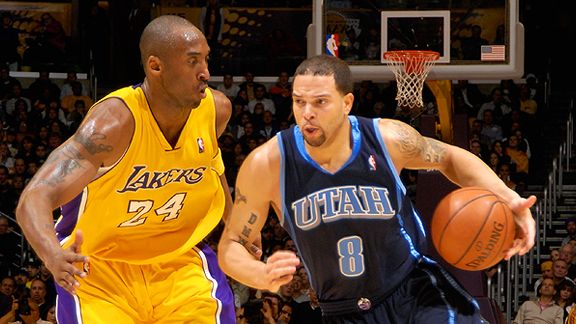 Evan Gole/NBAE/Getty Images
Utah Jazz (50-26) vs Los Angeles Lakers (54-21)
10:30 PM ET, April 2, 2010 -- STAPLES Center, Los Angeles, CA -- ESPN, ESPN360.com
The Lakers have currently lost two games in a row; their longest losing streak of the season is three games. Each of the losses in that losing streak was on the road (MIA, CHA, ORL). That streak was March 4-7. The Lakers are 32-5 at home this season, best mark in the Western Conference and second-best in the NBA. The Cavaliers are 33-4 at home. Kobe Bryant, who is averaging 27.2 points per game this season, may be extra motivated tonight after signing a three-year contract extension with the team. It is Kobe's 11th straight season averaging at least 20 points per game. Bryant has scored 1,177 points against Utah during the regular season. Only one player has scored more points against a Jerry Sloan coached team than Bryant: Hakeem Olajuwon (1,216). The Lakers lead the season series 2-1 against the Jazz. The Lakers won at home and the teams split two games in Utah. The Jazz, who have scored 100-or-more points in each of their last 11 games, the longest current streak of its kind in the league, have won their last three games.
Game Preview: Jazz vs Lakers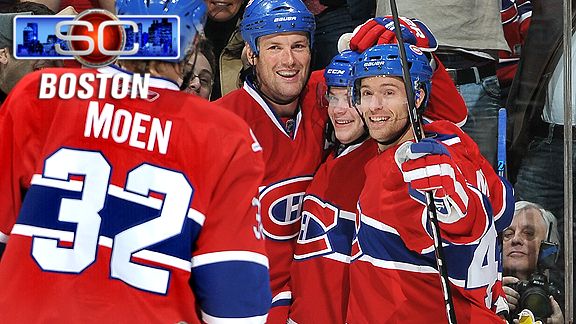 Francois Lacasse/NHLI via Getty Images
Montreal Canadiens (37-32-8) vs Philadelphia Flyers (38-33-6)
7:00 PM ET, April 2, 2010 -- Wachovia Center, Philadelphia, Pennsylvania
The two points up for grabs in this game are vital to the playoff hopes for these two teams tied in the standings. The Flyers have been struggling since the injury to goaltender Michael Leighton. After losing 6-4 to the Islanders on Thursday, they are 2-5-1 in the last 8 games since the Leighton injury on March 16. The Canadiens are also coming off a disappointing defeat to one of the East's poorer teams, losing 2-1 to Carolina Wednesday.
Game Preview: Canadiens vs Flyers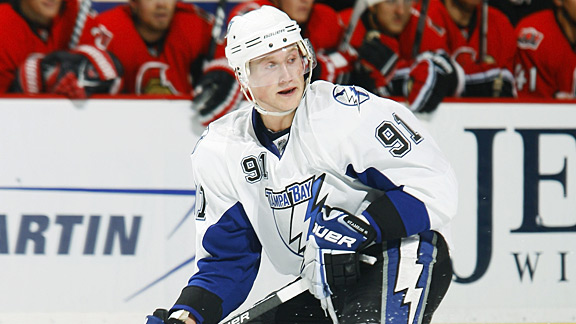 Mike Stobe/NHLI/Getty Images
New York Rangers (34-32-10) vs Tampa Bay Lightning (31-34-12)
7:30 PM ET, April 2, 2010 -- St. Pete Times Forum, Tampa, Florida
The New York Rangers were looking as if they'd be watching the playoffs on the tube after earning just eight points in their first 10 games coming out of the Olympic break; picking up seven crucial points in their last four games has them thinking a bit differently. Tampa Bay is trying to play spoiler and has more confidence after Wednesday's visit to Pittsburgh. Steven Stamkos scored his 46th goal in a 2-0 win over the Stanley Cup champion Penguins. Stamkos is 1 goal shy of Sidney Crosby for the Rocket Richard Trophy lead as the NHL's top goal scorer. He's also trying to top Alex Ovechkin -- Crosby's rival -- in goal totals in his second NHL season.
Game Preview: Rangers vs Lightning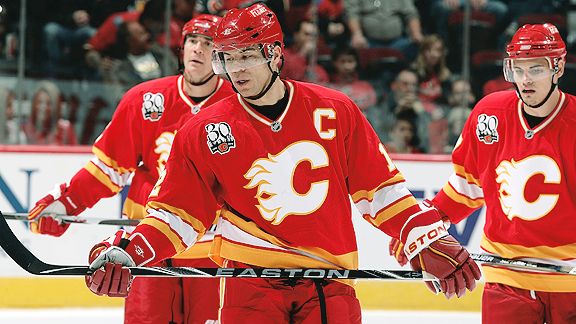 Gerry Thomas/NHLI/Getty Images
Calgary Flames (39-29-9) vs Colorado Avalanche (41-28-7)
9:30 PM ET, April 2, 2010 -- Pepsi Center, Denver, Colorado
Less than a week ago, the Calgary Flames appeared hopeless as a possible contender in the Western Conference playoff race, trailing the eighth-seeded Colorado Avalanche by six points; but tonight the Flames could pull even with Avs with a regulation win, while Colorado hopes to avoid a fourth straight loss. Colorado hasn't earned a point from their last three games, getting outscored 15-7.
Game Preview: Flames vs Avalanche
Note: The Elias Sports Bureau and ESPN Stats and Information group contributed to this report.