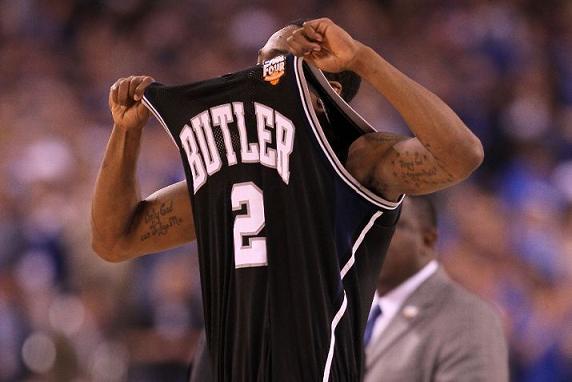 Andy Lyons/Getty Images
Butler Grinds Out The Win Over Michigan State
Gordon Hayward scored 19 points and collected the final rebound, sending Butler to its biggest victory, a 52-50 win over Michigan State in the Final Four on Saturday night. Butler took down another of college basketball's biggest names, forcing the Spartans into a sloppy game and capitalizing on their injuries and foul trouble. The win extended Butler's nation's best winning streak to 25.
Duke Rolls To Championship Game
The Duke Blue Devils moved within 40 minutes of their first national title in nine years Saturday night, getting 23 points from Jon Scheyer to pull away from West Virginia for a 78-57 victory. Kyle Singler had 21 and Nolan Smith added 19 more for coach Mike Krzyzewski's team, which squashed West Virginia's feel-good story and will now try to put an end to Butler's.
Source: Celtics' DJ Finally Elected To HOF
Former Boston Celtics guard Dennis Johnson, who played with the original Big Three and helped Boston win two NBA titles (1984 and '86) and Seattle win one (1979), has been elected to the Naismith Hall of Fame, a source told ESPNBoston.com'sPeter May. The official announcement is expected Monday morning. Johnson, who died of a heart attack in February 2007 at the age of 52, played 14 seasons in the NBA, the final seven with Boston.
After the jump ... Steve Alford's new deal, Notre Dame recruit dies, Tina Charles and Connie Yori win awards and Ricky Williams plays the Easter bunny.
Steve Alford Signs 10-Year Deal With New Mexico
New Mexico's Steve Alford has agreed to a new 10-year deal with the Lobos. Alford led the Lobos to the Mountain West conference regular-season title and a No. 3 seed in the East for this season's NCAA tournament. The Lobos beat Montana in the first round before losing to No. 11 Washington. Alford had been working under a three-year extension that ran through 2015-16.
Cleveland Browns nose tackle Shaun Rogers has pleaded not guilty to a concealed weapons charge. Authorities say he tried to carry a loaded handgun in a carry-on bag through airport security on Thursday. Rogers told Cleveland police that he forgot the gun was in his bag when he attempted to fly to Houston. After spending one night in jail, Rogers apologized to his fans and his teammates on Friday. The charge he faces carries a maximum penalty of 18 months in prison.
High School Athlete Dies From Fall
Former high school standout and Notre Dame football recruit Matt James died Friday night. James, 17, was celebrating his spring break in Panama City, Florida when he fell from a 5th floor balcony. He died instantly. The 6'6", 290lbs offensive lineman was an all-city and all-state football player for St. Xavier High School in Ohio. He was the first top recruit to be signed by Brian Kelly since he took over as the head coach at Notre Dame. "It appears to be a tragic accident," Panama City Beach police Maj. David Humphreys said. "Witnesses and friends indicate he had become drunk and belligerent," Humphreys said. "He had leaned over the balcony rail, was shaking his finger at the people in the next room over. He fell over."
UConn's Charles wins AP Player Of The Year
Tina Charles sat next to Maya Moore at the AP Awards ceremony Saturday fully expecting to congratulate her teammate on winning another trophy. UConn's star center was completely shocked when she ended up being the one picking up the award.
Yori, Not Auriemma, Coach Of The Year
Nebraska's Connie Yori is the AP women's college basketball coach of the year. Yori received 28 votes from the 40-member national media panel, well ahead of Connecticut's Geno Auriemma, who had 10. Connie Yori led Nebraska to a 30-0 start. Yori guided Nebraska on one of the biggest turnarounds in NCAA history, going from 15-16 last season to winning their first 30 games before losing in the Big 12 tournament semifinals, then reached the regional semifinals for the first time in school history.
Wallace Contemplating Retirement
Detroit Pistons center Ben Wallace will have a decision to make at the end of the season. The 14-year veteran has to decide whether or not to return for a 15th season. He says it will depend on his health and energy level after struggled through a knee injury late in the year. "It's according to how I feel once this thing is over with," said Wallace, who battled a knee injury late in the season. "I'll sit down, chill for a minute, talk to the family and see how everything feels."
Ricky Williams Works to Feed the Needy
Dolphins RB Ricky Williams helped give away more than 300 Easter dinners to needy families in South Florida. The Ricky Williams Foundation, working with Feeding South Florida and the Miami Dolphins, put the event together over the past two weeks. Williams said he and his teammates need to be there for those who need them. "There should be some benefit to us being here, besides entertainment and playing football," Williams said. "We all make pretty good money, so I think, especially in hard economic times, we should have more of a presence."
The Associated Press contributed to this report.