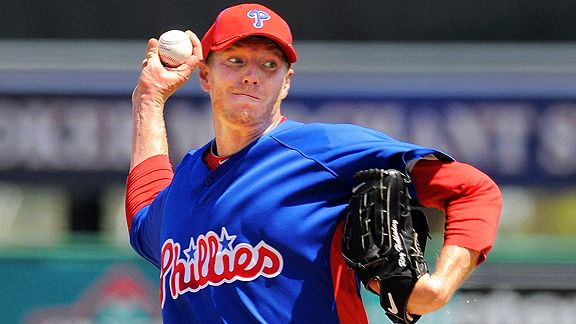 Mark Cunningham/MLB Photos/Getty Images
Roy Halladay, John Lannan and President Obama will all take the mound on Opening Day in Washington.
If you still have sick days left over from March Madness, today is the day to use them. It's MLB Opening Day and 26 clubs are in action as the 2010 baseball season gets underway. With the MLB Extra Innings free preview (4/5 - 4-11), today is the perfect day to kick back, bust out your authentic Roy Hobbs jersey and get your fill of America's favorite pastime. Of course, you could always go to work and watch the scores run up on your PC, but do you really wanna be that guy who missed Bob Feller pitch a no-hitter on Opening Day back in 1940?
Here's what's on tap around the majors:
National League:
Phillies @ Nationals 1:05 (ET) - Roy Halladay, baseball's biggest offseason acquisition, makes his debut for Philadelphia today. Baseball analysts expect such a monster season from Halladay, that 24 of ESPN's 38 experts predicted he'd win the NL CY Young. Also switching jerseys is President Obama. He's traded in his White Sox jersey for a Nats one as he throws out Washington's first pitch today to Ryan Zimmerman. Have your glove ready Zimmy - the President has a history of short-arming his throws.
The rest of the schedule, in glorious detail, after the jump.
Marlins @ Mets 1:10 (ET) - The Mets hit the fewest home runs in the majors in 2009 with 95. The next least was the Giants with 122. Today debuts Citi Field's new centerfield wall, which they lowered from 16 feet to 8 feet. The Mets claim it's for aesthetic reasons, but something tells us upper management has David Wright on their fantasy team and they weren't happy with his 10 home run output in 2009.
Cardinals @ Reds 1:10 (ET) - Cincinnati has lost two straight Opening Day games while the St. Louis has dropped three. The Reds will face Chris Carpenter, the 2009 NL ERA leader (2.24). If the Reds want to avoid dropping their third straight Opening Day game they'll need production from the top of their order. In 2009, the Reds ranked 29th in on base percentage from their leadoff hitter.
Dodgers @ Pirates 1:35 (ET) - The Dodgers have won the last two NL West titles and look poised for a third straight. The Pirates haven't had a winning season in 17 years (and counting!). That's probably why their 2010 slogan is "Pride. Passion. Pittsburgh Pirates." and not "Pride. Passion. Playoffs." or something else that would hint toward winning. But that's life among the three rivers, where at least fans can always find some positive with their beloved Steelers. Oh wait. Sorry about that.
Rockies @ Brewers 2:10 (ET) - Two of the MLB's brightest young pitchers take the mound in this matchup: 26-year-old Ubaldo Jimenez for Colorado and 24-year-old Yovani Gallardo for Milwaukee. Both pitchers should hold their own in this one, but if Gallardo gets in trouble in front of his home crowd, they may want to call on Prince Fielder in relief. Judging from this 1992 McDonald's commercial he throws quite the fastball.
Cubs @ Braves 4:10 (ET) - The 68-year-old Bobby Cox will manage his 21st consecutive season in his second stint with Atlanta. It is said to be his final year as the Braves coach. During Cox's first stint with Atlanta in 1978, Diamondbacks manager AJ Hinch was 4.
Padres @ Diamondbacks 5:10 (ET) - All eyes will be on Justin Upton today, the No. 1 overall pick in 2005's MLB Draft. The 22-year-old phenom batted .300 with 26 HR, 86 RBI and 20 steals in 2009 and just signed a six-year $51.25 million contract in March. We're not doctors, but running full-speed down a three-foot-wide hallway can't be the safest way to protect your investment.
Giants @ Astros 7:05 (ET) - Coming off his 2008 Cy Young award, Tim Lincecum pitched just three innings on opening day last year and was tagged for three runs. It was tied for the shortest first start by the reigning Cy Young Award winner. It looks like the 2009 Cy Young Award winner has employed the use of a Snuggie to keep his shoulder warm this offseason. We'll see if he can find more success today at Houston.
American League:
Indians @ White Sox 2:05 (ET) - Dating back to last year, the Indians have lost 15 straight road games. On top of that, Jake Westbrook, Cleveland's starter, is just one of only seven pitchers in the last 50 years to miss the entire previous season and start opening day. Let's not judge yet ... maybe the 32-year-old Westbrook is the next Eddie Harris.
Blue Jays @ Rangers 2:05 (ET) - Today marks the debut of the Vladiator in Texas. He may be 35, but Vladimir Guerrero has 19 career Opening-day RBI, the all-time MLB record. With Roy Halladay departing from Toronto, the Jays will send Shaun Marcum to the mound, so that's something.
Tigers @ Royals 4:10 (ET) - Zack Greinke may have won the 2009 AL Cy Young, but if the past is any indicator of the future, he won't be enjoying his start today. None of the last six AL Cy Young winners have made it to the seventh inning in their first start the following year and only Bartolo Colon gave up less than four runs. Would it be inconceivable for fantasy owners to think about benching Greinke versus the Tigers and Justin Verlander?
Twins @ Angels 10:05 (ET) - Catcher Joe Mauer cost Minnesota $184 million. The Twins brand new Target Field cost Minnesota roughly $522 million. At those prices, couldn't they open the season at home? Apparently not. That won't come until next Monday against the Red Sox.
Mariners @ A's 10:05 (ET) - The A's have lost 5 straight Opening Day games and have been shutout in 3 of those games. Now add Mariners starting pitcher Felix Hernandez into the equation who was tied last year for the AL lead in wins (19), was second in ERA (2.49) and struck out 217 batters. Win or lose, we hope that A's fans still get a magnetic schedule for showing up.