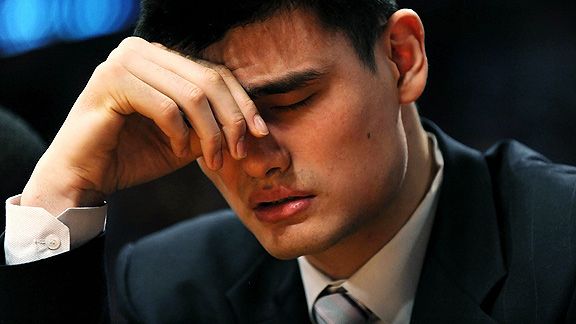 Noah Graham/Getty Images
Don't be sad, Yao. You're still kind of tall.
With Twins closer Joe Nathan lost to a season-ending elbow operation, his replacement, Jon Rauch, has a tall order to fill. Luckily, Rauch is quite literally very, very tall. Six-foot-11 to be exact, making him the tallest player in major league history.
Will that translate into success for Rauch in his second season with the Twins (he pitched 15.2 innings with a 1.72 ERA last year after coming over from Arizona)? Who knows? Did it get us wondering who the tallest athletes were in other sports? Most definitely. So we did some research. Wonder no more, friends. Wonder no more.
At 6-foot-11, Rauch is two inches taller than the tallest player in the NHL, which is none other than Zdeno Chara, the Boston Bruins defenseman and reigning Norris Trophy winner. At 6-foot-9, Chara, who is from Slovakia and was drafted in 1996 by the New York Islanders, is the tallest guy to ever play in the NHL.
Rauch is also taller than Baltimore Ravens offensive tackle Jared Gaither, who at 6-foot-9 is the tallest player currently in the NFL. Gaither is not, however, the tallest player to ever play in the NFL. That distinction belongs to Richard Sligh, the 7-foot defensive tackle who played eight games for the Oakland Raiders in 1967.
As for the world's tallest other type of footballer, that's Belgian football club Standard Liege's goalie Kristof Van Hout, who tips the measuring tape at 6-foot-10. The tallest player in the English Premier League is the 6-foot-8 Stefan Maierhofer, a striker for Wolverhampton.
Surprise, surprise, the beanpoles in the NBA tower over even the tallest NHL, NFL and MLB players. The tallest ever were Gheorghe Muresan (1993-2000) and Manute Bol (1985-1994), who both checked in at 7-foot-7. And of course, the tallest current player is Houston's Yao Ming at 7-foot-6. But as for the tallest professional baller outside the NBA? That's Ali Nashnush, a Libyan basketball player who died in 1991. Nashnush, who was 8 feet tall and actually had an operation so he would stop growing, was one of only 12 people in the world to reach or surpass the 96-inch mark. As for the tallest player in the WNBA? That's former Los Angeles Spars center Margo Dydek, and she's not far behind Yao and company at 7-foot-2. Not coincidentally, Dydek holds the WNBA's record for blocks with 877.
Auto racers tend to be a shorter bunch, having to fit inside those little cars and all. The tallest current Formula 1 racer is Red Bull Racing's Mark Webber at 6-foot-1, the tallest current Indy Car racer is England's Justin Wilson at 6-foot-3.5, and the tallest ever NASCAR driver was Buddy Baker, the 6-foot-6 South Carolinian who raced his way to 311 top 10 finishes from 1959 to 1983.
The world's tallest horse jockey is … 7-foot-7. No, really. Well, kind of. Manute Bol technically became the tallest jockey ever licensed by the Indiana Horse Racing Commission when he suited up in jockey gear in a fund-raising effort at Hoosier Park in Indiana back in 2003 (Bol also experimented with hockey and boxing). As for the tallest jockey that wasn't a former NBA player, that's believed to be Louis Moeller, a female Danish jockey who stands at 6-foot-1.
As for racers who compete without the assistance of motors or equines, the 6-foot-5 Usain Bolt earned the title of tallest Olympic 100-meter champion with his win in Beijing. The tallest swimmer at those Games? Lithuania's Rolandas Gimbutis, the 6-foot-10 freestyler who swam for Cal before competing in the 2008 Games.
The tallest golfer on the PGA tour? That's Huntsville, Alabama's own Stewart Cink, who won the 2009 Open Championship and tees off at 6-foot-4. The tallest player on the men's pro tennis tour is the 6-foot-10 Ivo Karlovic, a Croatian player who won four singles titles in 2007 and one in 2008. His counterpart on the women's side is the 6-foot-3 Eva Hrdinova from the Czech Republic, who has been ranked as high as No. 168 in the world (April 2008).
In terms of fighters, you have to think someone's who is nicknamed "The Skyscraper" is going to make some sort of Who's Who of Tall People list. And sure enough, Stefan "The Skyscraper" Struve, a Dutch MMA fighter, is the tallest fighter in the UFC at 6-foot-11. As for the tallest – and heaviest – boxing heavyweight in history, that's Russia's Nikolai Valuev, who checks in at 7-foot-0, 325 pounds. Valuev, who has an 88-inch reach, has won 50 of his 53 career fights, 34 by knock out.