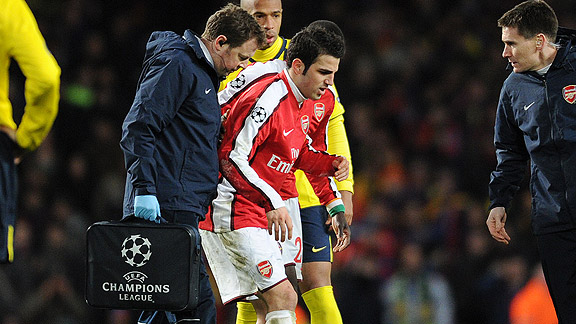 BEND IT LIKE BENDTNER
Just don't break it like Fabregas. Then defend like there's no tomorrow. (Because there might not be.) Arsenal visits Barcelona with a berth in the Final Four of the Champions League at stake. The first leg ended after Cesc Fabregas broke his, scoring the equalizer from the spot for a 2-2 draw in North London. So he won't play in the second leg this afternoon. So someone else needs to step up, since the Gunners need at least a 3-3 draw at the Camp Nou to advance. Or, they could always beat Barca outright. Except that they've never beaten Barca outright. Including the 2006 final. (2:45 pm ET)
No Reunion for Thierry Henry | Mission Improbable, Not Impossible
More from The Rundown, including a warm night in Southern California, and why Brett Favre seems even older than you already thought he was, after the jump.
17,758+1
The red-hot Angels (1-0) again host the ice-cold Twins (0-1) on a night where they'll literally try to warm everybody up. Get your tickets now, because they're going to try to break the world record for most fans wearing fleece blankets. (This one will feature Hideki Matsui's name.) It's a Guinness-certified record, as long-time readers of The Rundown will remember, since the current mark stands at 17,758 from a Cavs game one month ago.
"If all goes well in Mississippi for his daughter Brittany, and Favre returns, he would likely be the NFL's first active player-grandfather."
- Brett Favre's first child is expecting her first child. I'm guessing your gramps never played in the NFL. At least not while he was your gramps.
Speaking of your gramps, since you're already smart enough to subscribe to The Rundown, why not sign your gramps up for one of his own. Do it here. It's free, as long as he has an email address. And even if he doesn't - still free.