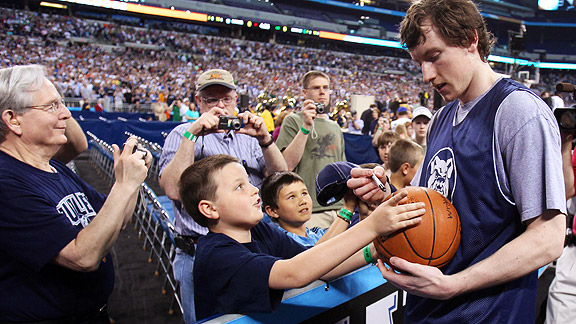 Bob Donnan/US Presswire
We'd like to thank all those who played a role in the development of Matt Howard's mustache.
TIME magazine has opened voting for this year's TIME 100 Poll, the mag's annual list of the 100 most influential people in the world. So all us regular, non-influential people can cast our votes for the likes of Lady Gaga (who, as of Tuesday afternoon, was in the lead), or Conan O'Brien, or Susan Boyle (top 20. No, seriously) on the internet whenever we like.
Not surprisingly, there are athletes sprinkled throughout the list, from Korean figure skater Kim Yu-Na, who won her country's first-ever figure skating medal (No. 2), to John Madden, an "NFL Consultant" tapped with task of making football safer (No. 161). Voting's going on now, and TIME will reveal its list on April 29. We, of course, think there are some athletes out there who are directly responsible for some big current trends in sports that the list missed completely. So here they are. Cast your write-in votes to TIME at your own discretion.
Influencer: Larry Bird
Area of Influence: Ambiguous NCAA Mustaches
Butler lost in the NCAA finals to Duke, but everyone's still talking about Bulldogs forward Matt Howard's mustache. Howard's upper lip was a topic of conversation throughout the tournament, and even though Howard says he's getting rid of the 'stache now that the Dance is over, it is still one very talked about piece of facial hair (see: its facebook page). Who can we thank for Howard's sweet crumb catcher? None other than Mr. Larry Bird himself, an early pioneer of NCAA lip wisp. See? Bird's mustache, of course, begot Adam Morrison's, who begot Howard's. As for Old Dominion coach Blaine Taylor's bushy lip cover, we don't know where that came from.
Influencer: Jerry Rice
Area of Influence: Acceptability of NFL Players on "Dancing With The Stars"
When you first hear about a show called "Dancing With the Stars," then you learn it's a show about ballroom dancing that's judged like "American Idol," it doesn't seem like the sort of show a player in the National Football League could go on without fear of merciless public ridicule. But Rice blazed a trail. Since Jerry appeared on the show (and finished in second place in Season Two), six football stars have danced their way into America's living rooms, including current competitor, Chad Ochocinco. And they've done well — Emmitt Smith won Season Three and Jason Taylor and Warren Sapp finished second in their respective seasons. Heavyweight champ Evander Holyfield also deserves a nod for his influence, he was the first athlete of any kind to appear on the show, way back in Season One.
Influencer: Anthony Mason
Area of Influence: Propensity of Pro Athletes Shaving Things Into Their Hair
Like the rest of the world, we were saddened when Ron Artest recently shaved his amazing hairdo off. Especially because Artest's 'do seemed to cap off just a stellar few months in athlete hair shaving trends, from Brandon Jennings's Kid N' Play locks to Tracy Porter's Super Bowl-winning cut. Artest, of course, has been rocking the Look What I Shaved In My Head look for years, but the true trail blazer in head shaving may well have been 13-year NBA veteran Anthony Mason, who shaved a new creation into his head for like, every game. Oh, a nod to Dennis Rodman, of course, for the dye job inspiration.
Influencer: The 1985 Chicago Bears
Area of Influence: Celebratory Dancing
Everyone and his little brother (no, really) was doing the John Wall dance this NCAA basketball season. But John Wall and all his fans have a few forebearers (pun-tastic!) to thank for ushering celebratory dancing into the modern day sports world. Namely, the Chicago Bears, who pretty much started the whole athletes awkwardly bopping about to music phase back in 1985 when they debuted the Super Bowl Shuffle before they were set to appear in the Super Bowl. Many followed, from Ickey Shuffle all the way to Brett Favre's "Pants on the Ground" and LT's "Electric Glide." May they all live in shame.