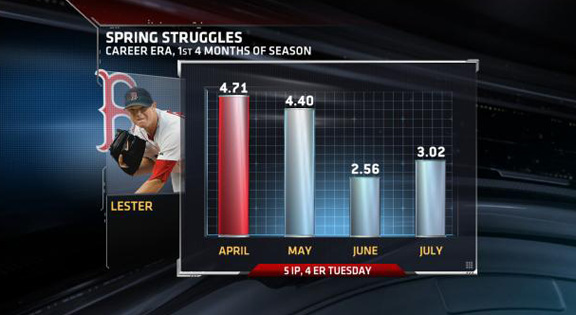 Yankees 6, Red Sox 4
Jon Lester struggled in his first outing of 2010, allowing 4 earned runs in 5 innings pitched and taking the loss. But don't fret Sox fans, Lester has never been a fast starter. The third-year pitcher now has a 4.71 ERA in the month of April and has lost 4 of his 6 decisions, making April the only month in which he has a losing record.
MORE: Game Recap | Box Score | Highlight
After the jump, Big Papi might be cold in the Sox lineup - but see why his words are lighting up the airwaves, we'll go inside the Hawks and Celtics battle for 3rd place in the Eastern Conference, Sid-The-Kid vs Alex-The-Great and Martin Brodeur rewrites the NHL's record book...again.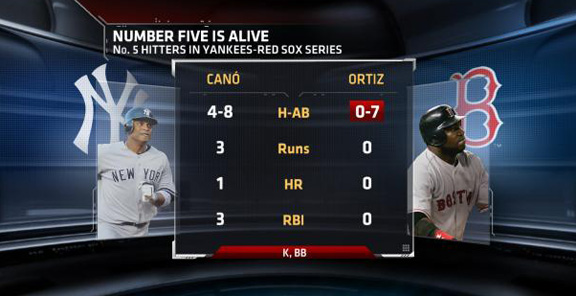 THE 5 HOLE: The Yankees and Red Sox have received drastically different results from their respective number 5 hitters in this series. Robinson Cano is hitting .500 with a homer and 3 RBI's. David Ortiz is 0-7 with a walk and a strikeout leading to this frustrating quote: (get your ear muffs ready)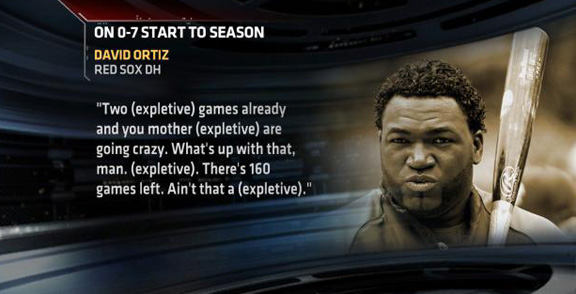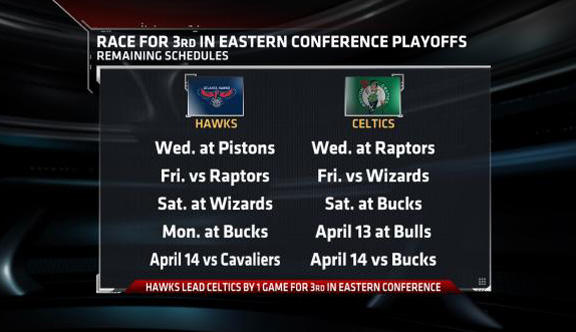 BRING ON LeBRON: In the NBA, both the Hawks and Celtics are hoping to lock up the 3 seed in the East and avoid a potential 2nd-round match-up against LeBron and the Cavs. Atlanta and Boston will face 3 common opponents over their final 5 games of the season - the Raptors, Wizards and Bucks. Both the Hawks and Celtics will hit the road for 3 of their next 4 before playing their season finales at home.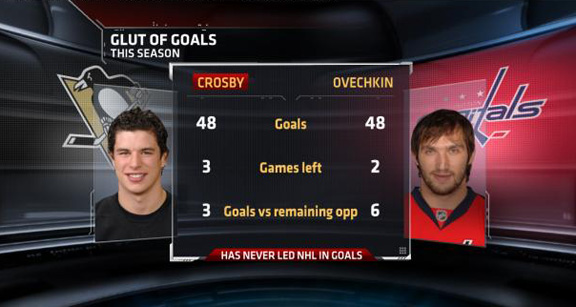 Capitals 6, Penguins 3
BEST OF THE BEST: Not only do the Capitals get the win, Alex Ovechkin's empty-netter in the last second ties him with Crosby for the most in the NHL this season, with 48. Sid the Kid has 3 games remaining to regain his lead, while Ovechkin will take to the ice just twice.
MORE: Game Recap | Box Score | Highlight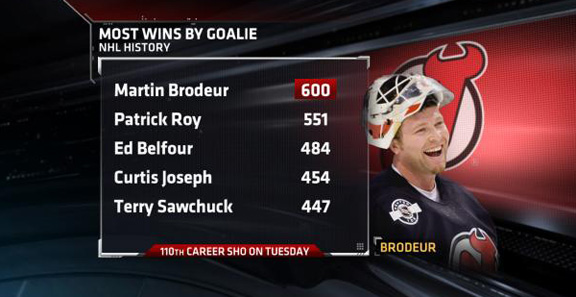 Devils 3, Thrashers 0
Martin Brodeur's 600th win is by far the most by a goalie in NHL history. It's also his 110th career shutout, an NHL record as well. That mark is the same as Walter Johnson's shutout record in Major League Baseball, which has stood for over 80 years. The Devils have clinched a playoff berth and sit in second place in the Eastern Conference, one point ahead of the Sabres with 3 games remaining.
MORE: How many more wins for Brodeur? | NHL Standings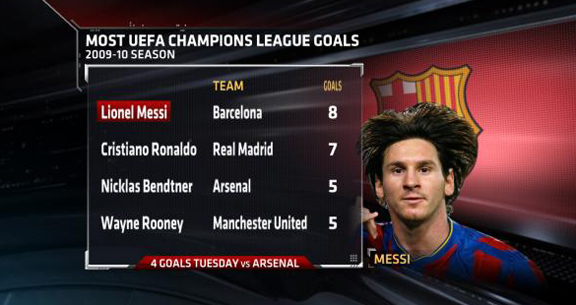 Barcelona 4 - 1 Arsenal
We are only 65 days away until the 2010 FIFA World Cup kicks off -- with four goals Tuesday, Lionel Messi takes over the Champions League lead in goals with 8. That's one more than Real Madrid's Cristiano Ronaldo. Nicklas Bendtner and Wayne Rooney each have 5.
MORE: Guardiola praises character of star Messi | Game Recap