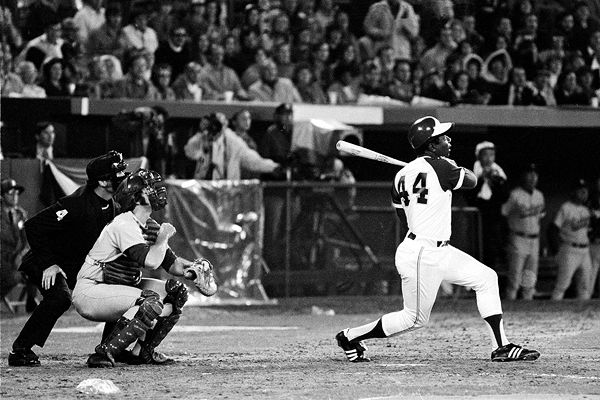 AP Photo
Jason Heyward, take note.
April 8, 1974: The record 53,775 fans in attendance at the Braves home opener of the 1974 season were treated to a little bit of history along with their opening day baseball, when slugger Hank Aaron hit the 715th home run of his career. The homer broke what was then baseball's home run record, held by Babe Ruth. Aaron, who finished his major league career with 755 home runs, held baseball's home run record until Barry Bonds broke it in 2007.
Hank hit his historic homer in the fourth inning in a game against the visiting Dodgers. Lefty pitcher Al Downing threw a high fastball that Aaron crushed to the bullpens in left-center field. The ball landed in the middle of a crowd of Braves relief pitchers. One of them, Tom House, grabbed the ball and ran it back to home plate. Aaron, meanwhile, trotted around the bases accompanied - as he rounded second base - by two college students. At home plate, a crowd of teammates and his dad met Aaron at the plate.
Aaron's home run quest was not all smiles and high fives. The first-ballot Hall of Fame outfielder received racist letters and death threats from people who did not want to see a black player beat Babe Ruth's "sacred" record. But Aaron, a 23-year MLB veteran, persevered. He finished his career with the home run record, a World Series championship (1975), an NL MVP award (1957) and MLB records for total bases (6,856) and extra-base hits (1,477). Read more about Aaron's life here.