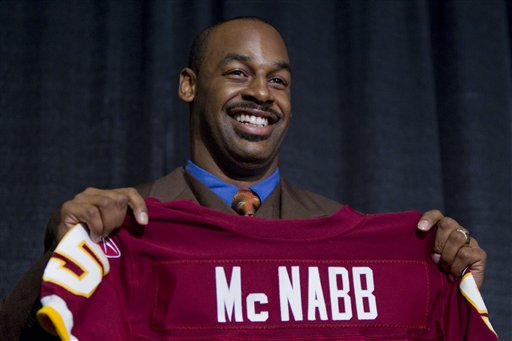 AP Photo/Evan Vucci
McNabb Winning Over The Redskins
Donovan McNabb, the 6-time Pro Bowl QB ... getting high praise from 'Skins tight end Chris Cooley, who said McNabb was fitting in quite well so far -- looking in command as he threw to several of his new targets on the practice field. Cooley said, "Donovan's outstanding, it feels like he's been here for a couple years. Instantly, he's a leader. He knows what it takes to have a team together. He's talking to all the guys, fits in extremely well. I don't think anyone was worried about his ability to come be the quarterback of this team."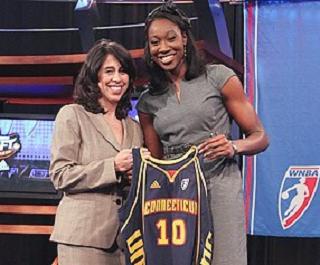 Nathaniel S. Butler/NBAE/Getty Images
It's been a busy week for Tina Charles ... On Tuesday, she was helping the UConn Huskies win their second straight national championship. Today, she was selected first by the Connecticut Sun in the WNBA draft. Charles averaged more than 18 points and nine rebounds while leading UConn to an NCAA Division I-record 78 straight victories over the past two seasons. Only two other UConn players have been taken with the top overall pick ... Sue Bird in 2002 and Diana Taurasi in '04.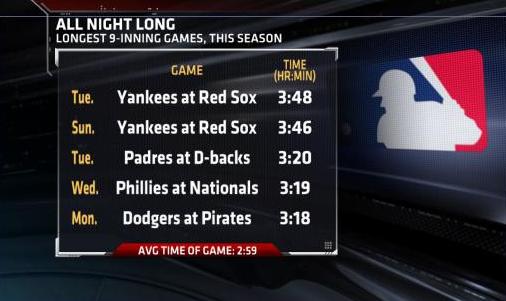 Slow Play, "A Disgrace To Baseball"
Sunday night's Yankees/Red Sox game took 3 hours 46 minutes to play. Tuesday night's game went 3:48. Before Wednesday night's game, Joe West, who was the crew chief of the umpires in the series called the AL East rivals "embarrassing" and "a disgrace to baseball" for slowing the pace of their games to a crawl, according to the Bergen Record.
West said, "They're the two clubs that don't try to pick up the pace. They're two of the best teams in baseball. Why are they playing the slowest? It's pathetic and embarrassing. They take too long to play. The commissioner of baseball says he wants the pace picked up. We try and (Tuesday night's game) still almost went four hours."
Maybe West has a point. The first 2 games of the Yankees-Red Sox series were easily the 2 longest 9-inning games of this short season thus far. The average time of game so far is just under 3 hours.