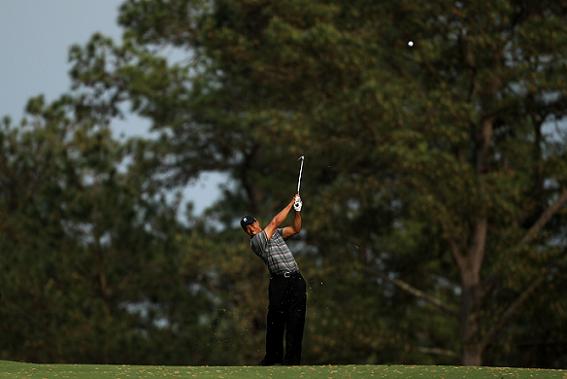 Andrew Redington/Getty Images
Tiger Sits Two Back Of Masters' Leader
Fred Couples, whose only major championship came 18 years ago at The Masters, shot an opening-round 66 to grab the first round lead ... But all eyes on Augusta -- Day 1 were on Tiger Woods ... and all ears too ... Tiger said the cheers he received were the loudest he's ever heard at Augusta National ... and his score ... his best ever on the first day of the Masters ... Safe to say, it was Tiger's best day in some 5 months.
Brad Stevens Signs New 12-Year Contract
Butler coach Brad Stevens, the 33-year-old coach, who came within a buzzer-beating shot of winning the NCAA tournament, signed a 12-year deal that extends through the 2021-22 season. Team spokesman Jim McGrath declined to say how much the deal was worth. Stevens is expected to answer questions at a news conference Friday morning. The move should end, at least temporarily, speculation that Stevens would jump to a school such as Oregon, Clemson or Wake Forest, who have open positions.
McNabb Winning Over The Redskins
Donovan McNabb, the 6-time Pro Bowl QB ... getting high praise from 'Skins tight end Chris Cooley, who said McNabb was fitting in quite well so far -- looking in command as he threw to several of his new targets on the practice field. Cooley said, "Donovan's outstanding, it feels like he's been here for a couple years. Instantly, he's a leader. He knows what it takes to have a team together. He's talking to all the guys, fits in extremely well. I don't think anyone was worried about his ability to come be the quarterback of this team."
After the jump ... Colt McCoy works out for Rams, Chris Bosh weeks away from return, Tina Charles #1 pick and Yankees worth a bundle ... but play too slow.
McCoy - Private Workout For Rams
Texas QB Colt McCoy worked out for the St. Louis Rams in Austin, a league source told ESPN NFL Insider Adam Schefter. After the Rams released long-time starter Marc Bulger, many thought Oklahoma QB Sam Bradford would be the guy St. Louis would select with the first pick come draft day April 22; McCoy is hoping to alter that scenario during Thursday's private workout.
Chris Bosh had his nasal fracture surgically repaired by Dr. Frank Papay at the Cleveland Clinic. The Raptors' medical director, Dr. Paul Marks, said, "He took a pretty good blunt trauma to the face. It's not a fracture that would require screws or plates or anything like that. It's just a small flap of bone, per se, that's been put back in the right position so that it maintains that structural integrity. This would be in the time frame of weeks, perhaps, to set in place and to be healed."
It's been a busy week for Tina Charles ... On Tuesday, she was helping the UConn Huskies win their second straight national championship. Thursday, she was selected first by the Connecticut Sun in the WNBA draft. Charles averaged more than 18 points and nine rebounds while leading UConn to an NCAA Division I-record 78 straight victories over the past two seasons. Only two other UConn players have been taken with the top overall pick ... Sue Bird in 2002 and Diana Taurasi in '04.
Slow Play, "A Disgrace To Baseball"
Sunday night's Yankees/Red Sox game took 3 hours 46 minutes to play. Tuesday night's game went 3:48. Before Wednesday night's game, Joe West, who was the crew chief of the umpires in the series called the AL East rivals "embarrassing" and "a disgrace to baseball" for slowing the pace of their games to a crawl, according to the Bergen Record. West said, "They're the two clubs that don't try to pick up the pace. They're two of the best teams in baseball. Why are they playing the slowest? It's pathetic and embarrassing. They take too long to play. The commissioner of baseball says he wants the pace picked up. We try and (Tuesday night's game) still almost went four hours."
The New York Yankees are worth $1.6 billion, twice as much as its closest rivals, according to the annual estimates by Forbes magazine. After paying into baseball's revenue-sharing program and financing their new stadium, the Yankees still had a net value of $441 million in net revenue in the first season at its new ballpark. The Red Sox are second in worth, valued at $870 million. The New York Mets are third, valued at $870 million after dropping 6% from last season.
Cliff Lee is throwing again, but is still days away from taking the mound for real. Lee threw off the top of a mound Wednesday for the first time since suffering an abdominal strain three weeks ago, according to the Seattle Times. Mariners manager Don Wakamatsu said that the team is targeting April 14 as a date for Lee to throw a simulated game, before gauging when the left-hander will return to the Mariners line-up.
Five-Year Deal For Brewers' Gallardo
The Brewers are playing it safe, rather than being sorry. The team offered Yovani Gallardo a five-year, $30 million contract, according to SI.com. Gallardo's deal, which could total $42.5 million over six seasons, covers his arbitration-eligible years and the first season after he would have become eligible for free agency. The right-hander will receive a $1.25 million signing bonus once the contract is approved by Major League Baseball.