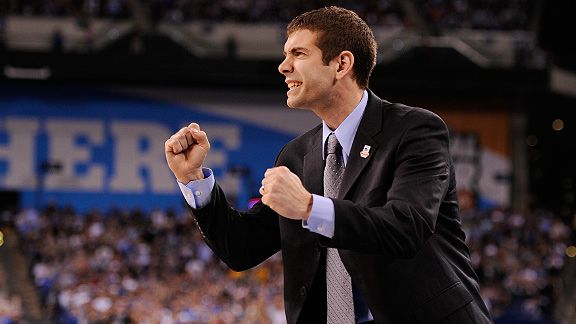 AP Photo/Mark J. Terrill
Butler coach Brad Stevens reacts to the news that he's not the only one who wants to see the Bulldogs dance with the Blue Devils next season.
None of us know exactly what Butler coach Brad Stevens did immediately following the National Championship loss to Duke. But if he's anything like us, he probably popped in Rocky II and started shadow boxing around his living room. Even if that's not how he dealt with last week's loss, something gave Coach Stevens the confidence to issue a rematch to Duke for the 2011 season. Why not the Italian Stallion knocking out Apollo Creed in the ultimate underdog story? And just like the inevitability of the Stallone sequel, we imagine we speak for the NCAA scheduling committee when we say that this rematch is a no-brainer for sports fans everywhere.
And while we can only cross our fingers for a Butler-Duke rematch, we won't hold our breathes because we recognize that this sort of quick shot at redemption is a rare opportunity. But it got us thinking about other championship losers who never got the chance for a rapid redo. Wouldn't it be great if some of the following grudge matches had an opportunity for instant redemption?
In Super Bowl XXXIV, the Tennessee Titans fell one singular yard short of Super Bowl glory and, to this day, have not returned to that grand stage. The clock hit zero and tackled wide receiver, Kevin Dyson, was forced to watch as Dick Vermeil cried tears of joy and the Rams hoisted the Lombardi. This was the first time in history when splitting the trophy in half may actually have been justified. That, or we could have simply had our first Super Bowl rematch a week later. Think about the possibilities ...
We would have loved to see French soccer star, Zinedine Zidane, get his chance at redemption for an ill-advised head butt, which cost his country the World Cup trophy in 2006. We're not sure that Italy would be pro-rematch but that was no way for a football legend to end a career. One more race around the pitch would have been an ideal send-off.
Even though they're both way past their prime, we'd approve of a Micheal Johnson/Donovan Bailey rematch for the title of Fastest Man In The World (with Usain Bolt's permission, of course). Except this time, we'd recommend that Johnson participate in a light stretch before the race.
Cubs fans, we really didn't want to bring up Steve Bartman and the 2003 NLCS (for the second time this week) but, come on. Just like a 1o-year-old screaming for a "REDO" in his wiffleball game, this was the ultimate scenario where professional sports could have provided us with instant gratification for redemption.
In 1978 there was an instance when a second place darling actually HAD the opportunity to change his fate, when thoroughbred race horse, Alydar, had not one or two, but three chances to redeem his championship losses. Alydar came in second to Triple Crown winnner, Affirmed, in the Kentucky Derby, the Belmont Stakes, and the Preakness. Yes, in all three triple crown events, Alydar was the runner up. Talk about your all-time bummer. Who wouldn't want to give this perennial number two a chance to wear the roses?
Ultimately, though, we realize that we're just scratching the surface for unrequited rematches. What championships would you like to see replayed?