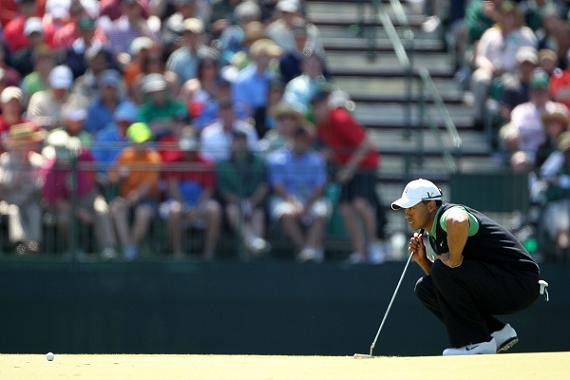 Jamie Squire/Getty Images
Westwood, Poulter Share Lead -- Tiger 2 Back
A couple of Englishmen lead at Augusta ... Tiger and Lefty giving chase -- The Masters even better on day 2. Ian Poulter and Lee Westwood are tied at the top at 8-under. Mickelson and Woods are at minus-6. Tiger's won The Masters all 3 times he's been tied for 3rd or better heading into the weekend ... he's right there.
Sources: Roethlisberger Will Not Be Charged
ESPN has been told that Ben Roethlisberger will not be charged after a month long investigation into sexual assault allegations in Georgia. ESPN legal analyst Roger Cossack said Friday that based on information from sources familiar with the case, charges will not be filed. A 20-year-old woman accused Roethlisberger of assaulting her March 5 in a Milledgeville, Georgia, nightclub. A source confirmed to ESPN's Kelly Naqi that District Attorney Fred Bright will announce Monday that charges will not be brought against Roethlisberger. The accuser's attorney had no comment Friday.
Who's up for a rematch? Fans are. And it seems the teams are too. One day after signing a 12 year extension, Butler coach Brad Stevens talked about his long term vision for the school ... including a better schedule. He said he has been approached about a possible regular season rematch with Duke next season ... Saying it all depends on times and dates. Stevens hopes the tournament success leads to more neutral site and home and home series with big conference powers.
After the jump ... problems for USA Swimming, Jimmy Clausen's pro day, Andrew Bynum still hurting, Ginobili's new deal and the Yankees getting ready to hand out some rings.
Investigation: USA Swimming Coaches Molested Teen Swimmers
Coaches certified by USA Swimming have been able to molest young swimmers and then, move from town to town to escape criminal charges and victimize other teenaged swimmers ... this according to investigations by ESPN's Outside The Lines and ABC News.
Notre Dame pro day Friday ... And Jimmy Clausen was center stage with a 30 minute workout. Coming off foot surgery in January ... Clausen says he was at about 75 percent ... He didn't make any quick cuts, but threw 59 passes, completing 57 of them. Depending on who you talk to, he could be the best of a good qb class .
The Lakers finish the regular season on Wednesday against the Clippers ... And they'll finish it without Andrew Bynum. He missed his tenth game Friday night due to a strained left Achilles' tendon, but vows to play in the Lakers' playoff opener.
Manu Ginobili Makes It Official
It's official, the San Antonio Spurs announced Friday that guard Manu Ginobili has signed a multi-year contract extension. In eight seasons, the 32-year-old Ginobili has helped the Spurs win three NBA titles. "It is quite obvious how important Manu has been to our program," said Spurs coach Gregg Popovich. "It is a great feeling to know that one of the best players in the world will continue to be a Spur."
Mets manager Jerry Manuel says Jose Reyes will be in Saturday's lineup against the Nationals. The 2-time all-star shortstop missed nearly 11 months with hamstring problems and a hyperactive thyroid after a promising start last year.
Strained Oblique To Sideline Chipper Jones
Atlanta 3B Chipper Jones says his strained oblique may keep him out of the Braves' upcoming series against the Giants. Jones, who felt discomfort during batting practice, strained his right oblique during Thursday night's loss to the Cubs. The veteran third baseman also recognizes the possibility that he could be sidelined for a significant portion of their six-game West Coast swing that concludes Thursday in San Diego.
When the Yankees open up at home on Tuesday against the Angels, Whitey Ford and Yogi Berra will be there to help distribute the championship rings ... And Bernie Williams will be there, too - he'll throw out the first pitch. Ceremonies begin at 12:15 pm ET, ahead of the 1:05 pm ET start.