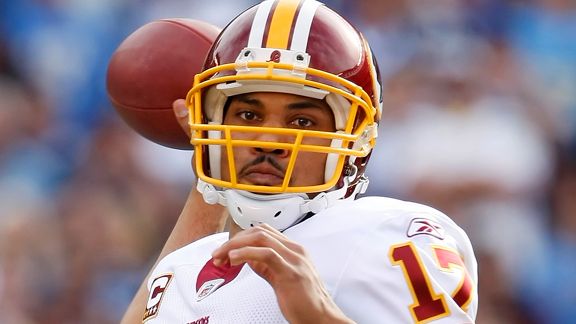 Jeff Gross/Getty Images
Campbell Signs Free-agent Tender
Jason Campbell, the Redskins starting QB since 2007, has signed his restricted free agent offer sheet with the Redskins. He will be owed $3.1 million from the tender, unless he can work out a long term deal. By signing his tender, Campbell opens the door to a possible trade since the team has just acquired Donovan McNabb to be their starter. The 3-year starter has stopped attending voluntary workouts with the organization, and is not expected to attend a three-day mini-camp this weekend either.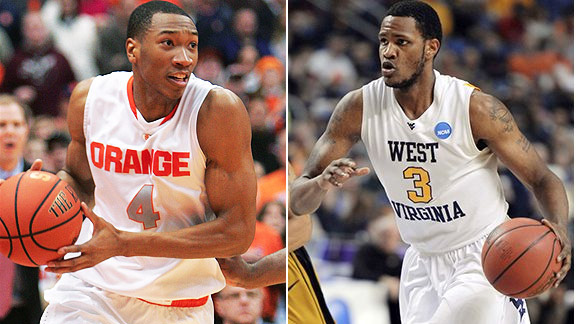 AP Photo/David Duprey and Getty Images
Johnson/Ebanks Entering NBA Draft
Syracuse star Wesley Johnson officially declared his eligibility for the NBA Draft on Monday. Johnson was the Big East Player of the Year, averaging 16.5 points and 8.5 rebounds per game. He was also a finalist for the Naismith Trophy, given annually to the best basketball player in the country.
West Virginia forward Devin Ebanks also announced Monday that he will be entering the NBA Draft. He hasn't signed with an agent yet, meaning he still has time to change his mind, but WVU basketball spokesman Bryan Messerly said Ebanks plans to pick one soon. He averaged 12 points and 8.1 rebounds per game last season, and was considered the best defender on the WVU Final Four team.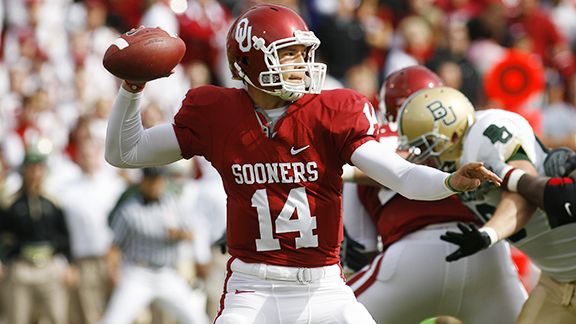 J.P. Wilson/Icon SMI
Sixteen College Football Players Confirmed At NFL Draft
There are now 16 athletes confirmed to be in attendance for the NFL draft next week. The biggest name to announce he will be there is Oklahoma QB Sam Bradford, the potential No. 1 pick overall. Joining him will be Nebraska DT Ndamukong Suh, Oklahoma DT Gerald McCoy, Oklahoma State OT Russell Okung, Tennessee S Eric Berry, Florida CB Joe Haden, Clemson RB C.J. Spiller, Wake Forest CB Brandon Ghee, Iowa OT Bryan Bulaga, Texas DT Lamarr Houston, Georgia Tech WR Demaryius Thomas, Cal RB Jahvid Best, Georgia Tech DE Derrick Morgan, Oklahoma OT Trent Williams, Tennessee DT Dan Williams, and Penn State DT Jared Odrick. Bradford's fellow QBs Tim Tebow, Jimmy Clausen, and Colt McCoy have all been invited but have yet to accept their invitations. The NFL Draft will run from April 22-24.