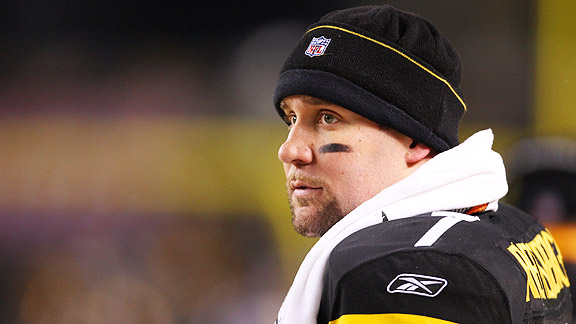 Matthew Emmons/US Presswire
Fred Bright, District Attorney for Ocmulgee County, Georgia said Monday that they could not prove the allegations against Ben Roethlisberger beyond a reasonable doubt. Therefore, there will be no charges filed against the Steelers QB.
Steelers Were Ready to Cut or Trade Holmes
The Steelers traded Santonio Holmes to the Jets, but were ready to cut him outright if a deal could not be reached. Sources said the Steelers were tired of Holmes' legal troubles and wanted to move on without the Super Bowl XLIII MVP.
Kobe To Miss Final Two Regular Season Games
Kobe Bryant will miss the last two games of the season with an avulsion fracture to his right index finger. Since the Lakers have locked up the No. 1 seed in the Western Conference, it was determined rest was the best thing for Kobe.
After the jump: Wesley Johnson/Devin Eubanks going pro, Chipper Jones hurt again, Jason Campbell Signs, and Tampa Bay Lightning cleaning house.
Chipper Jones has missed three games with a strained right oblique muscle, and now might miss some more time after his back tightened up. The injury happened when he was taking some swings in the cage Sunday to test the status of his oblique.
Syracuse star Wesley Johnson officially declared his eligibility for the NBA Draft on Monday. Johnson was the Big East Player of the Year, averaging 16.5 points and 8.5 rebounds per game. He was also a finalist for the Naismith Trophy, given annually to the best basketball player in the country.
Devin Eubanks Declares for NBA Draft
West Virginia forward Devin Ebanks also announced Monday that he will be entering the NBA Draft. He hasn't signed with an agent yet, meaning he still has time to change his mind, but WVU basketball spokesman Bryan Messerly said Ebanks plans to pick one soon. He averaged 12 points and 8.1 rebounds per game last season, and was considered the best defender on the WVU Final Four team.
Campbell Signs Tender with Redskins
Jason Campbell signed his restricted free agent tender offer with the Redskins. The deal will pay the 3-year starter $3.1 million for the season. The deal does not rule out the possibility of a trade, which is a possibility with the Skins recent acquisition of Donovan McNabb.
Tampa Bay Lightning Fire Head Coach and GM
For the 3rd straight year, the Tampa Bay Lightning are missing the playoffs and new owner Jeff Vinik isn't happy. Vinik fired head coach Rick Tocchet and general manager Brian Lawton Monday. The team will start over from scratch next season.